Another layout for my great niece's album I'm working on - that is 3, count 'em 3 layouts in 2 days!! WOOHOO I haven't scrapped this many layouts in I don't know how long!!! LOL I am using another sketch from
52 Sketches, 52 Weeks
- I am totally digging these sketches and this one made me think of the long ago used lollipop flowers!!!
Anywho, I loved this pic of her and flipped it to BW to scrap for this - so innocent and sweet. Anyways, I just thought she was such a beautiful dreamer and realized that would be the perfect title for the page. Now the lollipop flowers on here were so much fun to make - heck, I haven't made a lollipop flower since my
Twilight layout in January
- I might have gotten a little carried away with the 2nd one but I couldn't resist!!!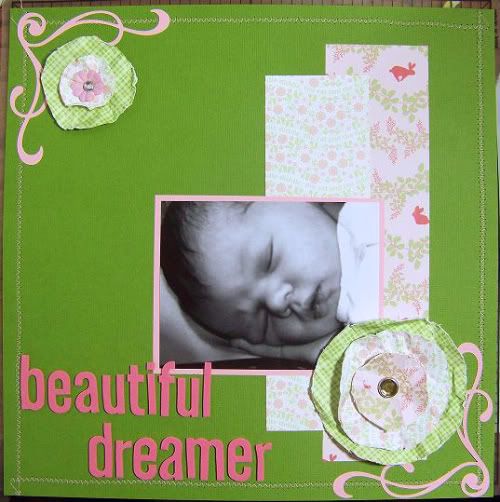 A close up of the biggest lollipop flower: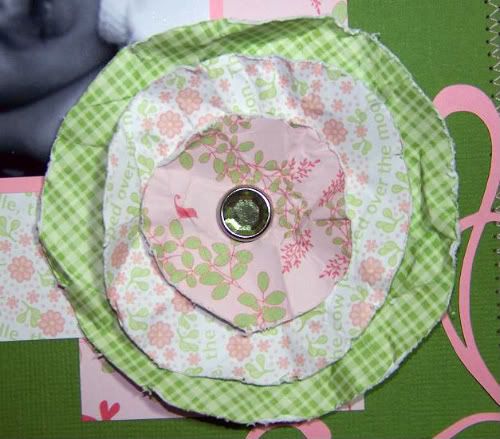 Home Accents cartridge again for the flourishes, DCWV Nursery Baby Girl papers, sewed around the edge (don't look too closely you'll see my oopppss's) and Thickers.
Thanks for stoppin' by and happy scrappin'!!!!
PS Again, sorry for the poor photo's - I really need to get a bigger light box made.................*****sigh*****