Yeah, it is a tired Tuesday around our house. For some reason Rob and I didn't sleep so well last night and the kids stayed up late playing video games then they had to get up to go job hunting again. So, we are all a little out of it today!!!
I did get a card done today and if I do say so myself, she is MAH-VELOUS!!! She fills two challenges:
Penny Black Saturday Challenges
- In honor of the blogs one year anniversary the challenge this week is Celebrations! I love this PB girl and I thought she would fit the bill of a party girl heading out on the town!!!

Card Patterns
- This is a sketch blog I just found so this is my first week to play over there! The sketch this week is just too darn cah-yute and I knew it would work fabulous with my PB card I was already working on when I found it!!
OK for the card: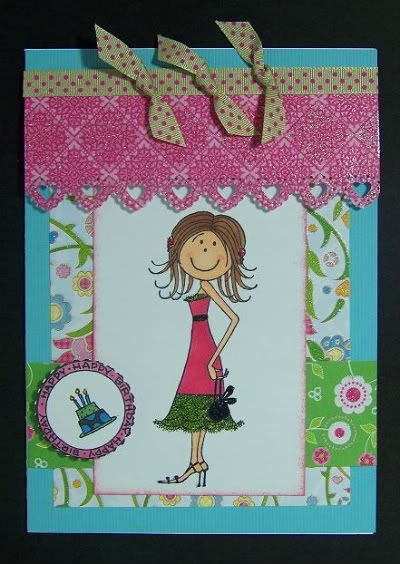 If you stop by the PB challenge site and play along you can enter in the DT's anniversary blog hop but you have to create a card using at least one PB image or sentiment! So, what are you waiting for!!!
Thanks for stoppin' by and happy scrappin'!!!