.........Birthday and Anniversary!!! Yesterday (6/6) was my 37th birthday and today (6/7) is my parents 40th anniversary!!!
I woke to this: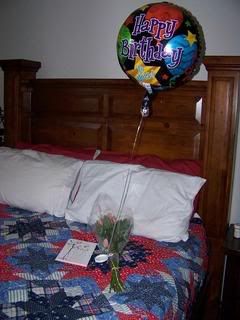 The card was so amazing it had me in tears!!! He said he searched and searched to find the perfect card that said everything he wanted it to say - let's just put it this way, he is an AMAZING husband!!! I've always known it but man, this card just blew me away!!!!
Then, he surprised me with a trip to the mountains to go hiking and sight seeing with the kids!!! What amazing sights did I get to see..................everything except for that darn snake that scared the bejeezus out of me!! I screamed like a girl and ran - my son got the biggest kick out of that!! LOL Let's just say I was going down a trail that apparently the snake was sunning him/herself on and "it" did not like the fact that I was interrupting the lounging time!!! It took off the other way and my ferocious daisy (***giggle, ferocious***) went after it - luckily she came back with just a couple hollers as I would hate to have seen her get bit!!!
Here is a slide show from our trip - I'll try to put labels on the pics later but I'm still unpacking - it is slow going because we are sorting while we unpack and of course my scrappy area is taking the longest because I'm trying (key word trying) to organize myself the first go around instead of pulling it all out later LOL - I really need Aymee to come visit me and help me, she is so freaking good at organizing!!!!
OK, thanks for stopping by and happy scrappin' - don't forget, tomorrow will be another challenge at The Cuttlebug Spot. If you have never played along with us you should definitely do so - fun challenges and amazing inspiration from all the DT!!!!