I finally realized that the Bella site had a blog and get this.................CHALLENGES!!! DOH!!! Sometimes I swear I am blonde - no offense to anyone but I live with a genuine blonde (even though she stays dyed a different color) so I definitely know that the stereotype CAN be true in some cases. So anywho...........I found the challenges at the
Bella Blog
and since getting my first Bella in January I have started a love affair with these stamps. The challenge this week was a fab sketch challenge and I had so much fun with it!!!
My card: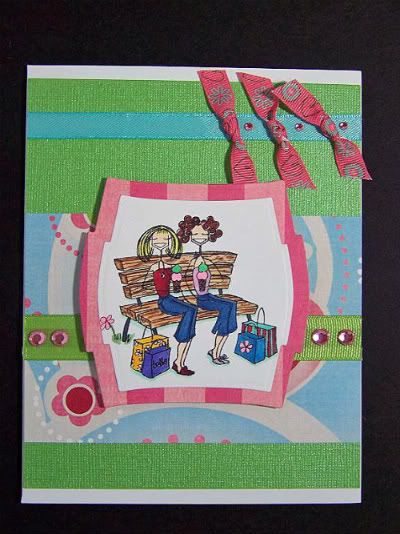 Aren't these two girls just the cutest with their recent shopping trip and yummy ice cream???
I think I have a problem - no, not the one where I am obsessed with scrappy stuff......LOL. My sleep pattern is way jacked!!! This morning I was wide awake at 4 a.m. (5 Tx time) and the mornings I do try to sleep in I am up by 8:30 am at the latest. What the heck??? I'm typically a night owl and am lucky if I make it to midnight anymore!!!
Well, thanks for stoppin' by I love to see all the different places that come by just wish everyone would say hi!!! Happy Scrappin'!!!!