So, I was a TOTAL ditz on a recipe card swap I signed up on. I completely forgot about the darn thing and had to get my bottom busy the last two nights to get these done so they could be in the mail this week!!! I am usually really, really good at remembering when I sign up for a swap but when I signed up for this one I had a ton going on and it just slipped my mind.
So, apologies to the ladies involved in the swap because I have completely held it up this time and I feel horrible but, I think you will like your recipe cards, at least I hope you do!!!
Here are a couple shots of the cards I made: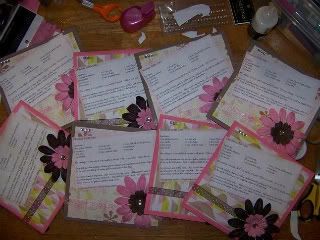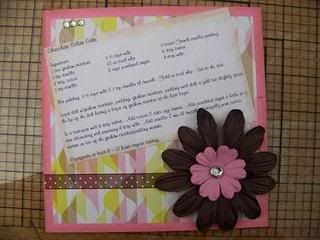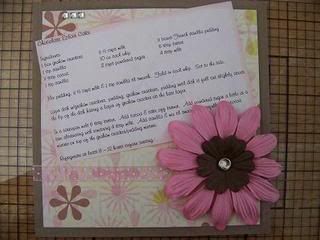 On another note, I have had the most gosh awful headache today. I was really bordering on calling it a migraine but it just never went over the edge. But that dull continual ache was just enough to make a person miserable!!!
This weekend we are going up for my FIL's birthday. Will be great to see everyone again but it will really be a short trip. We won't be able to leave til Saturday night and will have to be back by Sunday night so the kids can get some sleep for school on Monday. Sure was hoping my new assistant would have worked out but she quit on Tuesday - I'm usually a really nice person when it comes to training a person and giving them plenty of hands on training time but this girl was dumber than a bag of rocks I tell ya. So, on the search for an assistant again and working my tail off again.
Happy scrappin' everyone!!!
Over and out ya'll..................