OK, as the day has moved on I feel better. It has to be them darn allergies. Gonna wait to see if I get the chills and aches again tonite before I decide to go or not go this weekend. I really want to so I'm hoping that I am fine.
I just found out some exciting news though!!! I screamed with joy when I found out!!! I'm not a huge television watcher but I loved Women's Murder Club - a series based on the James Patterson books. Well, it comes back on the air April 29th.........doing the happy dance here!!!
Now, if Life would come back on too I'd be thrilled!!! Gotta go look for that one!!!
Think I may run to Archiver's tonite - I shouldn't I know. But my friend Polè makes a bunch of Elvis collages for a Mexican restaurant chain down here called Chuy's and I was telling him about the Jolee's Elvis dimensional stickers and told him I'd grab him some next time I was there!!!
And in case he checks here tonite - he said earlier today he would - here is the Elvis clock I made my mother in-law a while back: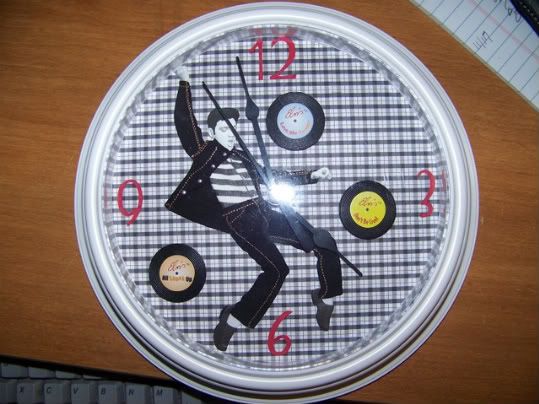 Have a great day!!! Happy Scrappin'!!!
Over and out Ya'll!!!