If you haven't checked out the gals over at
Pink Cat Studios
then I suggest you do so. Not only does Melissa have some rocking stamps she has created, but the talent of her design team and customers is amazing!!!
So, I got my very FIRST shipment from Melissa on Saturday. I have been contemplating for 3 weeks now WHICH stamp set(s) to buy. I want them ALL!!!! But, my budget wouldn't allow me to buy ALL of them right now. So, I opted for two sets and am anxiously awaiting the May 4th release of her newest set to include
Milly Moo
- check out her blog and have a look see at Milly, she is adorable!!!
Anywho, the two sets I bought were
Lily & Tweet
and
Crafty Kitty
. Aren't these awesome!!!
So, like I said I got my stamps on Saturday and couldn't wait to tear into them but I had two orders for Baby books that I had to get finished before I could get into these yummy stamps. Needless to say I have finished my baby books - well, I still have a little embellishing to do on one but couldn't wait any longer to play with my new stamps. I only managed to get ONE of the Lily & Tweet stamps mounted and cut out before I started stamping. These two cards serve a few purposes: 1.) I got to play with my new stamps....YAY!!! 2.) They are part of the 6 to 8 Mother's Day cards I need to make (I make for my Mom, MIL, sister, SIL's, etc.)!!! 3.) Very happily completes a challenge on the
Pink Cat Studio Blog
!!!! 4.) Used up a stack of scraps from a recent Baby boardbook that I made!!!
Without further delay....................drum roll please.................
Here are my first card creations with
Pink Cat Studio Stamps
Lily & Tweet
stamps: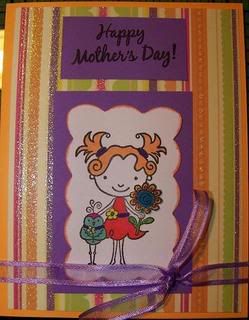 Did you notice on both cards how the flower in Lily's hand kind of stands out??? I stamped Lily twice for each card and the cut out the flower and used a pop dot to give it a little dimension as well as added some stickles to the flowers!!!
Thanks for stopping by and checking out my work!!!
Happy Scrappin'
Over and out ya'll....................