So, today was the day. We got out hair cut!!!
Cait and I got to the salon about 12:55 for our 1:00 appt and she got in the chair first. She chickened out on the total hair color but opt'd for some low lites and high lites in her hair w/a simple cut. She kept the overall length of her hair and just got some cute little layers put in to accentuate her new color - looks so cute!!!
Wanna see???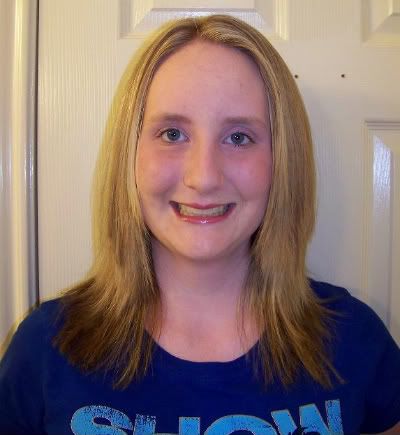 I told you it looks cute!!!
Now, for me.........there wasn't much left of my hair when she got done. But, I did tell her I wanted short and sassy and easy to manage cause I just don't do an hour on the hair anymore. Back in high school I'd spend an hour easy just on the hair and it had to look just right but now my hair is the last thing I want to spend an hour on.
So, I showed her an idea I had printed from the internet and she thought it would look cute on me. But she told me that since I was going that short I should go just another inch to inch and a half and donate to Locks of Love again. I thought what the heck, it's only hair and mine grows back super fast why not!!! Last August I donated 10 inches and today I donated 8 inches!!! Will be another year to year and a half before it is long enough to donate again but that's OK!!!
So, enough talking about it, you ready to see it???
OK, here is the before I took of myself last night:
Totally crappy picture I know but I was about to crawl into bed and thought it would be good to have a before pic!!!
So, on to the new "do":
And the back: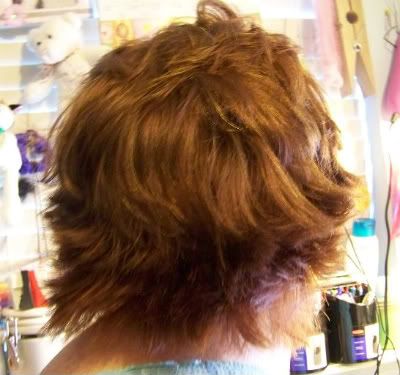 OK, be honest. What do you think??? I'm trying to get accustomed to not having a ton of hair on my head weighing it down. I love the back 110% and am getting used to the front. I'm just not used to having short hair - I only went this short (actually shorter) one time in my life and that is when Cait was little and I didn't have time to do the hair and get her ready and get to work on time. I felt so old with that hair cut though - I'm afraid this one makes me look older too and I don't need to look older - younger was my goal.......LOL
So, be honest - tell me what you think??? The new, short "do" or long hair on me, which looks best???
And here is one of the two of us: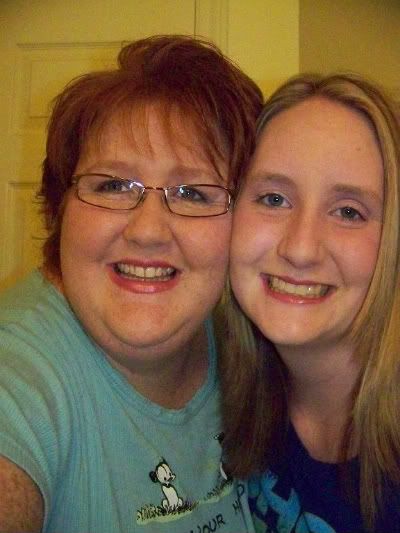 Well, nothing else went on today as we spent the majority of the day at the salon. I'm sitting at my scrappy desk trying to decide if I want to dig into anything tonite or just call it a nite and go to bed, a little on the tired side. If I end up doing anything tonite I'll try to post it later or in the morning but most likely gonna go veg in the bed and watch some TV til I fall asleep.
Happy Scrappin' and Over and out ya'll!!!!