How fast do you type???? LOL I found this on a blog I was perusing and me being the perfectionist I am when it comes to typing was curious how fast I type these days. When I graduated high school I was easily 70 to 75 wpm but wondered if I could still keep my fingers moving..................
81 words
I guess so huh??? LOL I was amazed to see that not only is my speed still up there, I've improved over the years a bit!!! Wonder how fast I really type if I try and focus on what I'm doing.....LOL
So, ever want to know your names hidden meaning??? I saw this while perusing another friend's blog the other day and forgot to post it...........
What Karen Means


You are a seeker of knowledge, and you have learned many things in your life.

You are also a keeper of knowledge - meaning you don't spill secrets or spread gossip.

People sometimes think you're snobby or aloof, but you're just too deep in thought to pay attention to them.



You are usually the best at everything ... you strive for perfection.

You are confident, authoritative, and aggressive.

You have the classic "Type A" personality.



You are wild, crazy, and a huge rebel. You're always up to something.

You have a ton of energy, and most people can't handle you. You're very intense.

You definitely are a handful, and you're likely to get in trouble. But your kind of trouble is a lot of fun.



You are friendly, charming, and warm. You get along with almost everyone.

You work hard not to rock the boat. Your easy going attitude brings people together.

At times, you can be a little flaky and irresponsible. But for the important things, you pull it together.



You are very intuitive and wise. You understand the world better than most people.

You also have a very active imagination. You often get carried away with your thoughts.

You are prone to a little paranoia and jealousy. You sometimes go overboard in interpreting signals.

So I wonder if the person who wrote that knows me??? For the most part it's pretty accurate!!!
I got a new pair of shoes this weekend - I must say they are rather comfy!!! Those who know me know that I am a total Crocs girl - they are so comfortable that I could care less if the majority of the population think they are ugly. Well, Rob and I went to the mall yesterday after watching Leatherheads at Alamo Drafthouse and I saw these new Skechers flip flops. They are darling - and comfy!!! They have the holes in them so you can "pop" little decorative buttons in and out to spruce them up a bit - I just love them!!!! Check 'em out!!!!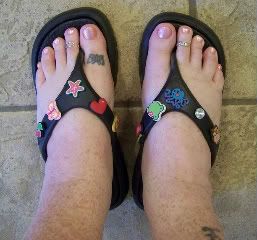 See all the little cute things on them??? Those can be popped in and out whenever you want to change them!!!
I am resolving to not turn on my monitor at my desk tonite until I have created at least one layout, two cards or one large altered item or two small altered items - I've been so lazy that it is just ridiculous and I need to get to making something, anything!!! So, wish me luck....LOL!!!
I also need to go touch base with my friends on a couple of the forums that I typically visit on a regular basis - I've been horrible about it. I just haven't had it in me to log in anywhere other than here every few days. I def need to get myself back into my groove. The haircut definitely helped - I'm a little more peppy lately and hope it lasts!!!
Well, that is all I can think of to bore you with - check back often, I actually accomplish something scrappy wise once in a while that is worth checking out!!!
Happy Scrappin'..............over and out ya'll!!!