So on Monday I swore that I would not turn on the monitor after work until I accomplished something crafty. Do you think I did it???
Well, of course I did!!! I made this darling little stationary box with 3 cards to go inside. I really love the colors and those stamped flowers are my newest stamp purchase. I totally adore them!!!
Check out my stationary box: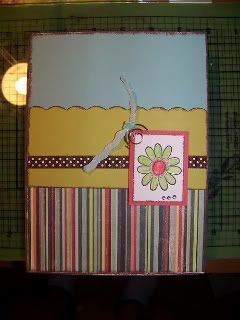 And the inside of the box w/the cards I made:
And the cards that goes into the stationary box:
I really enjoyed making this little set.
Last night I managed to whip out about a dozen more of the Post It note keychains but I haven't had a chance to get pictures of them to post but will try to do so tonite.
I spent last nite talking to a dear friend of mine from high school. I haven't sat down and talked with her in ages and we spent 2 1/2 hours on the phone last nite giggling like school girls reliving some of our crazy times and catching up on things in the last 10+ years that we've missed out on in each others lives. It was so great to talk to her - it really felt like old times as if we hadn't missed each other all those years.
Well, got work to do so I better get busy. A/R calls won't make themselves so I best get busy. Take care and have a great day!!!
Happy Scrappin'!!!
Over and out ya'll...........