It isn't as white as some of you have experienced, but it is probably the best we North Texans will get. This beautiful layer of white ice is cause for concern because a.) it is ice and b.) we are not used to driving in it and SOMEONE regardless of the warnings WILL get out thinking they are superhuman and end up in an accident. I am fortunate that I talked my stubborn husband into staying at a hotel yesterday when he got off work - the 50 mile commute would have taken him 4 to 5 hours with the way traffic was backed up. It was a chore but I finally told him I'd rather have him alive today and out money for clothes and a hotel than dead tomorrow because of his persistence that he HAD to go to work everyday since it took so long to find a job with the economy in such poor shape. He stayed 5 miles from his job and said it took over 30 minutes for the car to heat up enough so he could get the ice off and it took him a good bit to get those 5 miles to work but, he is there and by the time he gets off work all of this is supposed to be cleared off!!!
Here is our view this morning from the front door:
our driveway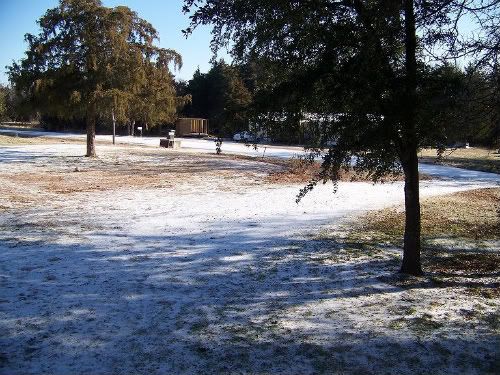 Daisy, quite hesitant on whether she REALLY had to potty or not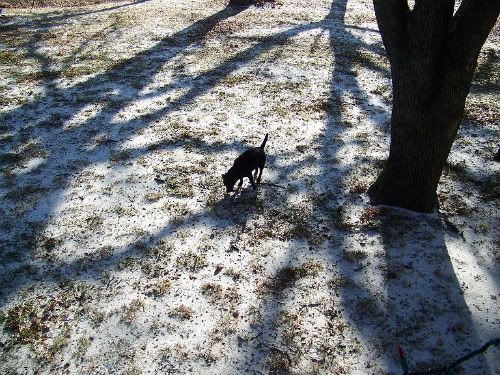 our front yard looking onto the road from our house that leads to the main road into town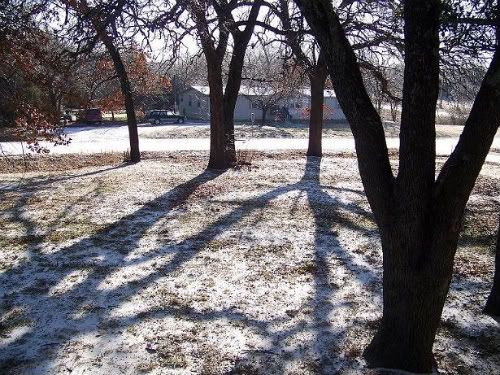 Very pretty to look at but def no fun - now if it were white, fluffy snow I'd be giddy and out playing in it but considering I have fallen INTO the house twice now (each picture taking trip - get it , trip) when coming back inside I pass on trying to play in it.
OK, off to fix something to eat since I slept in. I was up til 3 this morning chatting with my scrappy girls then I tossed and turned and ended up watching TV til 4:30 and finally fell asleep sometime after that for the kids to wake me up at 5:30 to tell me there was no school...................LOL!!! I need food and COFFEE!!!! Then, I'm gonna try to get some more scrappin' done!!!
Have a great and safe day!!! Happy Scrappin'!!!!