.................and I get freakin' ice!!!! GGGRRRR Doesn't the weatherman know the difference between the two??? ROFL So, it looks like we are gonna have some bad weather. We have already got a thin coating of ice popping up on stuff around here and the kids are home from school - darn my luck!!! ROFL
This past weekend we went to my Mom and Dad's to help with getting their TV's all ready for the new HD conversion - my Dad got the first box installed but was worried he wouldn't set it up right in the living room because of all the components and satellite and stuff so they called and asked if Rob would mind coming down to help him. It was a good weekend and was glad to spend time with them. Saturday night we went to my BFF from high school's parents house for her Mom's birthday party. I gave her the LO I made (see below) and they loved it - I was thrilled.
I took my A&P test yesterday and made a 95 - thank goodness as I was sweating that one!!! I don't know if my GPA will be a 4.0 this term - A&P is really kicking my booty!!! I am trying though and only 7 more weeks to go - 7 LONG, LONG WEEKS!!! I did start my research for my final though, I have to do an 8 to 10 page essay on a system of choice in the human body so I chose the Endocrine System - I figured there is lots going on in that system and I should have plenty of info to make my minimum requirements on length.
Scrap wise not much accomplished. I did finish up some recipe cards for a swap over at
Just Scrappin'
- I posted my cards for the girls to see and am anxiously awaiting the reveal of everyone else's - they'll prolly make me wait and torture me though!!!
Here are the cards I made, I used 3 different background papers for the base of the recipe card and a 4th where I stamped the sombrero on. I swear, everyone including my family thought I was nutts when I was looking for a chicken with a sombrero!!! I finally had to piece it but it turned out OK.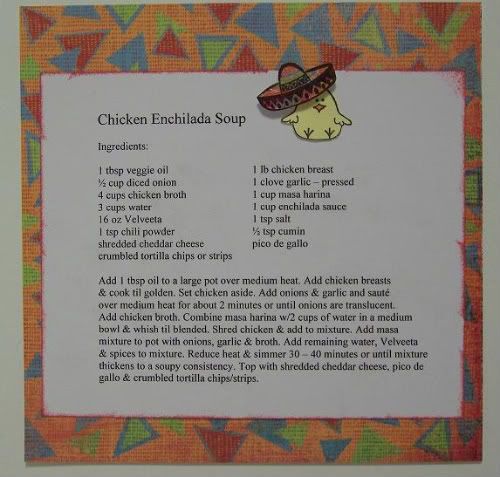 I did add a little extra something to them after I took pics but it wasn't anything major.
I'm off now to shower and then get scrappin'. I've been working on a special card for my DT reveal on the 2nd in memory of Beverley Todd who passed away Christmas Eve. She was a fellow DT member and will be terribly missed in the scrappy world. So look for my card come the 2nd - I don't think you will be disappointed with this one at all, I've spent quite a bit of time working on the little details just for Beverley.
Thanks for stoppin' by and Happy Scrappin'!!!!