Well, I got some catching up to do!!! The past week has flown by with so much going on!!! Let's see, the kids went back to school from Christmas break - YAY!!!! I rushed my husband to the hospital with chest pains and numbness in the left arm, I returned to school, we went to a friends for a crop and we attended the Heirloom Rubber Stamp show!!!
This past Monday the kids returned to school after their extremely long Christmas break - it might have just been long to me though!!! LOL Everything is going well so far in school and the 6 weeks should be ending in a week or so then we'll get report cards. I'm not overly worried as they are both really good students for the most part.
Wednesday morning my darling hubby woke up (at 3 am mind you) with what he thought was heartburn. After hearing him scrounging through my scrap room I asked what was up and he was looking for the Tums. About half an hour later he was still miserable so I told him to try drinking milk as it sometimes helps me. By 4 am I woke back up (I kept dozing thinking it was just heartburn) and without my glasses could see a webpage pulled up with heart on it and so I began to freak. He said the pain was still there and now he had numbness in the left arm - oh boy!!! After about a half hour of griping at him I finally convinced him we needed to head to the hospital - silly man thought if he wasn't having ALL of the symptoms of a heart attach it was fine!!! GGGRRRR I was ready to whip him lemme tell ya and I might have if I hadn't been scared half to death!!! His blood pressure was through the roof - let's just say I'll refrain from sharing here as it would probably send yours through the roof!!! The docs ran EKG's and other tests and his heart is OK but they said it was def related to the high BP and his heart and changed up his meds to try and control it better. We were released about 9 am to come home and slept a good part of the day. Luckily it was nothing serious and I think it was really brought on by the fact we've not been able to find work since the first of September so hopefully it will subside with him starting work soon - hopefully!!!
I started back to school on Thursday. My classes seem to be OK but boy oh boy am I gonna struggle with Software Applications and not because of the subject but because I have a difficult time understanding the professor. Luckily each session is recorded and we can download them to catch anything we may have missed - she is really nice but with my southern dialect and being used to slower speech patterns I am finding it hard to keep up with what she is saying.
On Friday we went over to a sweet friend of mine's house to scrap with a group of ladies. We had 8 girls there in total and it was a great time. Cait and I really like getting out and chatting and cropping even though we don't accomplish a whole lot. I did finish 2 cards - my DT card and another that I started out for a challenge on a blog but it ended up looking nothing like it!!! LOL
Here is the card I can show you now: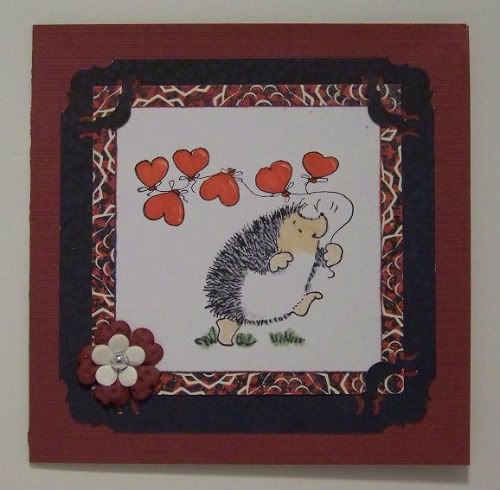 On Saturday Cait and I went to the Heirloom Rubber Stamp show in Grapevine. We had a nice time but were a little disappointed to be honest. The website showed a listing of a ton of vendors but in all there were only 27 present and 1 that I really wanted to check out wasn't there - that was a real bummer. We did find some stamps we'd been wanting for quite some time now and ironically enough they were from a local stamping store I found this past week!!! I got several Bella stamps and a set of My Favorite Things stamps along with some Whipper Snapper Designs stamps (3 of those I think). We spent a little more than we should have but things are looking up so I have faith it will work out - if not I guess I'll be selling some of my scrappy stuff to make up for what I spent........LOL
Here are a couple cards I have made this evening:
This one is actually for the weekly sketch and
2 Sketches 4 You - sketch 17: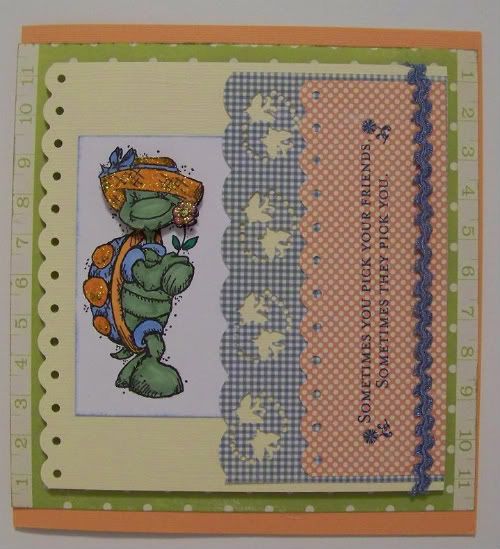 I haven't completed many LO's lately - the only one I did get finished was a lift challenge at Scrap My Memories and it is about my obsession - Twilight!!! Hope you like: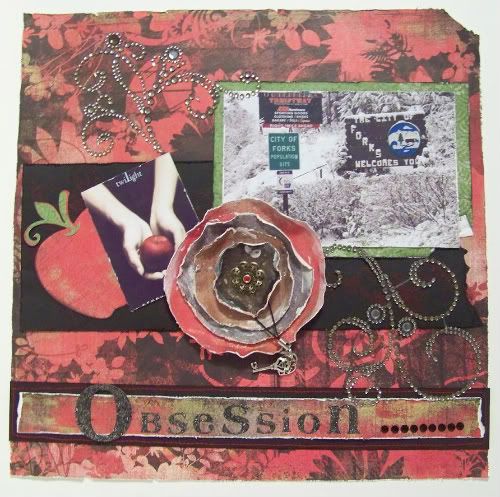 Oh, check out the moon tonite - I've been told by the hubby and son that it is the largest it will be all year long so naturally I had to grab the camera: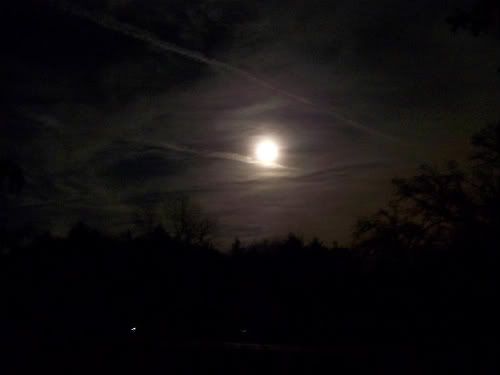 I think it is a cool pic regardless!!!
Well, I think that is about it for now!!! Hopefully things will slow down a little and I'll blog more regularly again - I miss blogging!!! If I haven't blogged it means I probably haven't created because I love to post my work as soon as it is done!!! Don't forget to check back on the 16th for my card reveal from Am I A Scrap Addict - Sketches, I really love the sketch we worked from this go around and I am actually thrilled with the card I created!!!
Happy Scrappin' All!!!