So I'm participating in an All About Me challenge that goes in 3 month segments. This was our first month and the challenge was to make a LO about your roles. In addition to the AAM challenges we have secret sisters to add to the spice of it. We filled out a short questionnaire and submitted it to the host then she assigned us a secret sister. Each month a theme is decided upon and we have to either purchase something that our SS can use on their LO that goes along with the theme and their questionnaire or make them something to use. My SS outdid herself - I mean, REALLY outdid herself. This LO hardly touches the stuff she sent me - Honestly, I could do another 2 layouts easy from the stuff and really wouldn't have to add anything extra to it!!! See, I told you she rocked it!!!
Without further delay, here is my LO - it is doing double duty for our sketch challenge too as I knew it would be great when I figured out the number of pictures I wanted to use: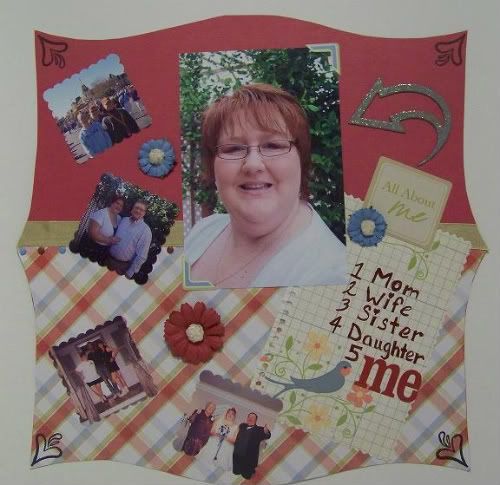 Other than this LO I managed to scrub our kitchen, finish laundry, take a test in school, talk to my Mom and cook dinner including homemade beer bread which was the hit of dinner - next to the smothered pork chops.......mmmmmmm!!!
Thanks for stoppin' by and happy scrappin'!!!