I'm really excited, I've not done much craft wise with a crazy busy schedule lately but......................come Friday I'm going home to visit!!! I haven't been back to Texas in over a year so it will be good to see familiar sites, family and for God's sake eat some REAL mexican food!!! Or should I say Tex-Mex...........LOL. Either way, I'm excited to come home!!!
I got this in my email tonite from our instructor this past Sunday: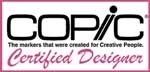 I'm excited to put it to work soon!!!
Thanks for stoppin' by, I know you are probably tired of hearing I'll have something crafty soon but I promise, very soon!!! I am working on some exciting things including classes that I will be holding here in New Mexico. The first class or two will most likely be very small so I get my bearings but as soon as I get it all straight I'll let you know as I've had a couple emails asking where I'll be teaching. If you are in the Albuquerque/Rio Rancho/Santa Fe area and are interested in a class for yourself and friends I'll be happy to do private stuff too and I promise, very reasonable :)