Woohoo!!! I should really be going to bed, and about 2 hours ago I said that was exactly what I was doing but....................I just popped over to the
Kenny K's Krafty Girlz Challenge Blog
because I just haven't been able to go to bed yet and wanted to see all the amazing creations to find the I won this week!!! They choose winners by one of the Randomizer's but hey, I won and that tickles me to death!!! I get to choose 3 of Kenny K's fabulous digi images as my prize!!!! And, I get to sport this fab little badge too!!!!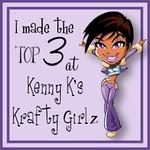 OK, off to make the tough decision of which 3 images I want and then, I promise I am going to bed. The hubby is already cranky with me because I didn't rest as much as I probably should have today but I've been bed/recliner ridden since last Thursday other than the two times in the hospital so feeling better def gave me incentive to get up and do something!!!
Night all, thanks for stoppin' by and happy scrappin'!!!