...............I did it again!!! I've neglected the old blog here. Things have been really hectic lately. Two weeks ago tomorrow we almost lost my mother to pneumonia. The first two days in the hospital were very touchy - so touchy both my Mom and my Dad admitted they didn't think she was going to make it. By Wednesday morning she kind of "bounced" back and started improving. By Friday she got to go home but has been to the doctor daily for testing here and there to make sure all is still clear - she had blood clots, one in the leg and one according to her (two according to my Dad the day she was admitted) in her lungs. She is still weak and tires easy but her attitude is definitely there making me know she is going to be OK!!!
Other than that (as if it wasn't enough) I've just been exhausted from work and life. So, hopefully I am back on the crafting bandwagon after Labor Day when we go to Texas.
But........................today, August 29, 2010, I received my Copic Certified Designer certification!!! Now, I can teach anywhere anyone wants me to!!! Although Albuquerque will be a hard market because we only have one scrap store and one stamp store and we had about 3 people from each store getting certified along with me but hey, that's OK because I will always have my certification!!!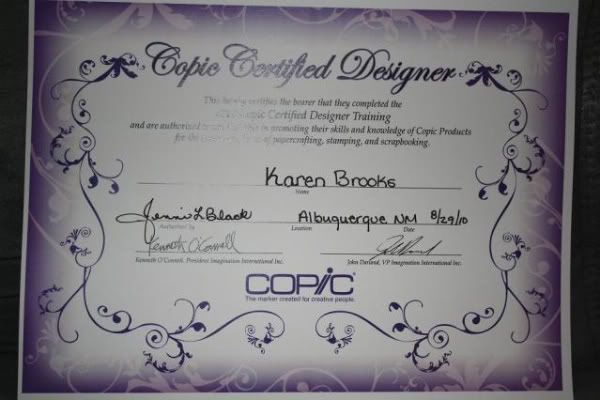 One little girl I started in class - finished her while sitting in my recliner this evening with little to no light so didn't see my "oooppsss" until after I uploaded her, oh well, will do another. If anyone knows the brand of this stamp I'd love to know, our instructor Jennie gave us these to practice on with hair and skin. I think I'd like to add black to the white area of the eye then put some white on top of the black to make the eyes pop out more, next time :)
And a little something I did this last week that did turn into a card.............but I forgot to take a pic before I gave it out!!!
Thanks for stopping by and hopefully, someday soon, I will return with some work!!!
Happy Scrappin!!!
OK, so after the post I decided to try the black in the center of the eyes with the white added on top - like it. Then I got smart and decided to use a silver pen for the buckles - don't like it. Live and learn :)