............on a roll!!! OMG I haven't felt this good and felt this creative in a long time. I hate that it had to come on with 2 hospital visits, numerous tests and a lot of blood drawn but hey, I feel my crafting groove coming back!!! And no, I'm not going back to school but my card is ready for Back to School action!!!
I'm working with the
Kenny K Digi Images
again. This one is a free download though available at
Kenny K Downloads
so make sure you grab it before the end of September!!!
So, this card completes a few challenges that I found:
1.
Kenny K's Krafty Girlz
- Stitching
2.
SCS Featured Stamper
- Casing
Kristen
where I used this
card, Sparkle Henry
as my inspiration.
3.
Stamping Vacation
- Special Month Challenge - Sewing
4.
Secret Crafter Saturday Challenge
- Anything Goes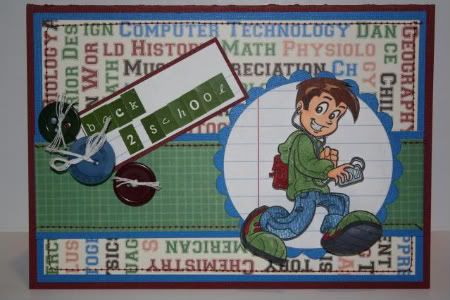 So in this pic you can kind of see some sparkle on the hoodie this little guy is wearing - his hoodie, backpack and shoes are all colored over with the Copic AtYou Spica pens and as with my other card, looks much better in person. Also, check out his pants!! I used B97 and B95 to color then...........get this, I learned it at my class to become a Copic Certified Designer, I took an old piece of denim jeans that Cait had made shorts out of, strapped it across my Tim Holtz inking tool, put a little Copic Blending Solution on it and "stamped" it to give the pants more of a "denim" feel. Now, if you try this let me warn you - COLOR THE PANTS FIRST AND NOTHING ELSE, STAMP IT WITH THE BLENDING SOLUTION AND LET DRY FOR A GOOD WHILE. Sorry for caps but in the class our instructor Jennie warned us that if we didn't do it this way that we'd ruin our image as EVERYTHING on the image would have the "denim" look. So, go try it and let me know how it turns out for you - if you do it please link it back to me so I can see!!!
I have to admit, it was AWESOME pulling out the sewing machine. No, I'm not using my little purple Singer machine that I adore, I'm using a new Singer that my hubby bought me last year and sadly, this is the FIRST time I've pulled it out to use!!! When I told him he stepped away from me (wise man lemme tell ya) and made a not so nice comment about how I just really NEEDED the machine last year so I could sew and how I am just NOW using it!!! Eh, it's all good because I just love how smooth it sews and stitches, boy howdy I don't know if I would ever use all 69 of them but your darn tootin' I'm gonnd try each out to see how they look!!! On the card I just used the basic stitch for now as I didn't want to screw up what I had worked hard on!!!
Here's my new, old baby!!!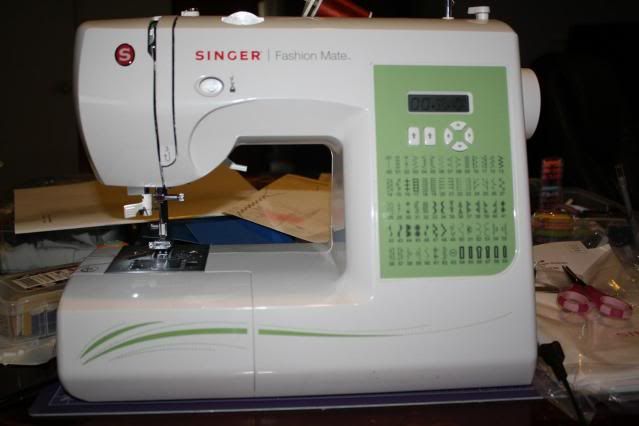 Well, I think that is it for me this weekend. I feel like I've been in a whirlwind of creativity and dang it feels good!!! So, thanks for stoppin' by and happy scrappin'!
PS When I gave my blog an overhaul I lost ALL of my friends as well as my blog roll. I spent a good amout of time out of touch with friends and the blogs I used to love to stalk so I am desperately trying to make a list of all so I can find you and add you back. So, if you aren't here and you were at one time let me know, I'd love to add you back because I didn't "delete" everyone on purpose, I just didn't think when I overhauled and realized it just a tad too late.............
.

OK, off to watch the new HBO series "Boardwalk" with the hubby!!! Take care!!