...........what's up today? I'm still in a bleh mood for the most part. It has been a rough week after the accident we witnessed last weekend, everyone in my house recovering from being sick, Rob's screwy work schedule (we are just thankful he has a job), some scrapper drama (I hate drama, have I ever mentioned that) and then with the passing of a scrappy friend's daughter it has just been a not so great week for me. So, with this being Saturday evening I am hoping that Sunday morning starts us off fresh and clear for a great week ahead - I want to get lots of scrappy stuff done this week!!!
I did manage to finish up my round 3 layout for the Treasured Scrapbooking "We Love Our Members" contest. The talent over there is just so amazing that I don't expect to come anywhere close to winning but I am really enjoying the time limit to complete and the prompts for the layouts - they've made me think a bit outside my box. The rules state we can show them on our blogs but I am just gonna wait til it is over before I share them so in another week or so I'll have them posted.
I did recently pull out my beads and starting making beaded charms and what knot for my layouts and cards. It also prompted me to try my hand at making some earrings and I've had a blast. I had quite a few beads from back before Rob and I got married. I had made a necklace and earrings to wear in our wedding until I was given the honor to wear a set of pearls that had been handed down through his family so the necklace and earrings got set aside and for the most part my beading did too. But boy oh boy have I had a blast BUYING stuff to work with - I've spent more than I should have but I am so psyched to try my hand at more stuff. I can tell you that I have seen some amazing work from a lady over on Treasured Scrapbooking -
Cheryl
- you should really check out her work, it is amazing. She made a necklace for a friend of mine, Cristal (who didn't post it on her blog or I'd link it for ya), and I am so in awe that I went and bought some stuff so I could try out the necklaces now!!!
The only thing craft wise I have to share with you are the earrings I've made, I've really been a slacker with scrapping lately but hope this next week my mojo comes home!!!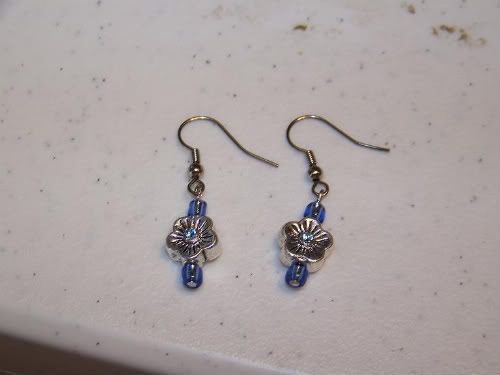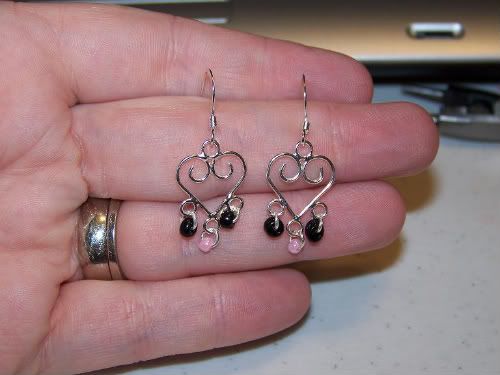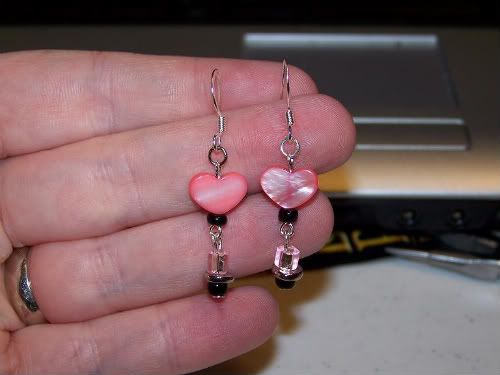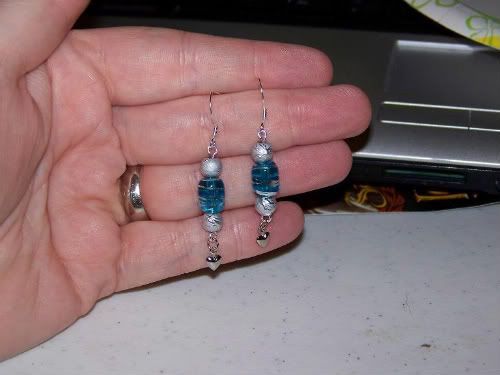 I had a lot of fun making these and I think Cait has had more fun wearing them to school this week!!! LOL
Thanks for stopping by. I think I am gonna try to work on a card - I've been kicking around trying out for another DT for over 2 weeks now and the deadline for submissions is coming soon so I really have to make the decision tonite and get my card made if I want to try for it. Send some positive vibes my way just in case!!!
Happy Scrappin'!!!!