Yep, I officially quarantined the house on Friday. Cait had strept throat all week, Rob was diagnosed Friday morning with acute bronchitis, Dyl was sick 2 weeks ago and I'm fighting but feel like I am losing. I have rested every chance I've gotten hoping it will help me continue to fight!!!
We had a crop going on over at Just Scrappin' this weekend and I only managed to get one thing done so far. I am hoping tomorrow I can get through a couple more things but I have some school work to do as well so we'll have to wait and see.
I'm also playing along in the We Love Our Members contest over at Treasured Scrapbooking. Wow, all the entries so far have been awesome! It is a 4 week long contest and we are starting week 2 this week. Make sure you stop by and check out all the fabulous work that has been done. I will be posting my work here when the contest is over but for now, if you wanna see what I'm up to you'll need to come on over!!!
Here's the one card I finished for the JS crop - I am not overly fond of it but it was made while doped up on cold meds so I have an excuse............LOL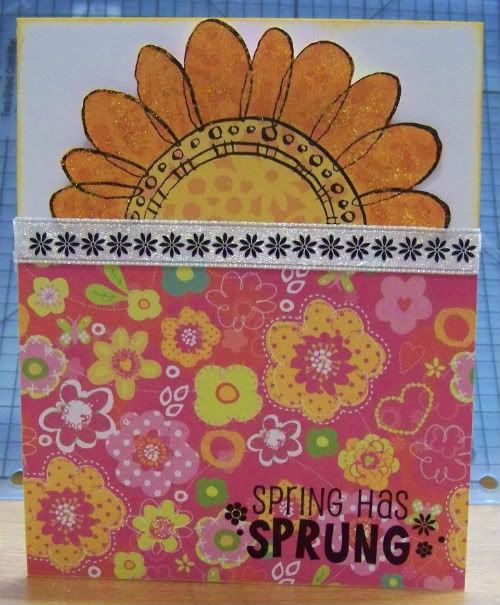 The challenge was by Kelly and based off a Becky Fleck sketch and we had to use orange or purple on the card. I chose to stamp out the flower and hand cut it out - I also stickled the petals. The ribbon has BoBunny rub-ons for the decorative effect and the sentiment is from BoBunny as well. The papers are K&Co. and the line escapes me right now.
Thanks for stoppin' by and happy scrappin' - let's hope for a more productive week this next week!!!!