My son, as some know, is technically my step son. No, I was not honored to be his birth mother but I love him as much as a mother can. His birth mother, Marni, passed away before his 2nd birthday so he has no memories of her other than stories he has been told. Over the years I've worked on a layout here and there trying to capture some of the memories for him. This layout is one that I am honored to be part of – more than just creating it. I completed this layout for four different challenges on four different boards so let me break it down:

From Here 2 Scrapternity:
I used a sketch as posted by Kelly
Just Scrappin':
Cristal challenged us to do a layout without a title.

Treasured Scrapbooking:
Shirley challenged us to use hearts on our layout.
ScrapFreak:
Jess challenged us to scrap a not so perfect event in our lives. Now, my being honored to be Dylan's Mom was a perfect event in my life but the tragic loss of life for his birth Mom was a not so perfect event.
So, now to my layout: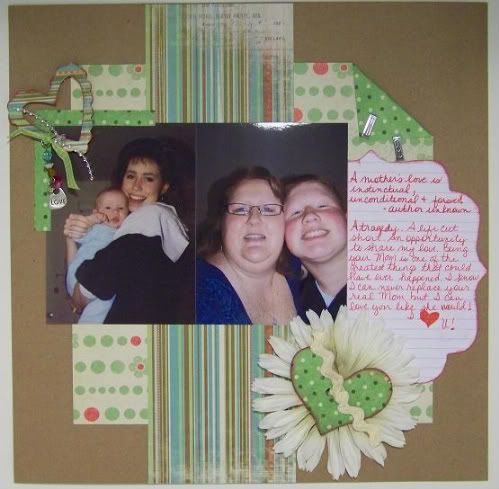 The journaling reads:
A mother's love is instinctual, unconditional and forever. – author unknown
A tragedy. A life cut short. An opportunity to share my love. Being your Mom is one of the best things that could have ever happened. I know I can never replace your real Mom but I can love you like she would. I <3 you.
I am very happy with how this one turned out. The pic of it isn't the best but it is 3 a.m. here and there is no natural light anywhere at this moment but I just had to get this uploaded as I am thrilled with it!
As always thanks for stopping by and happy scrappin'!!!