Well, I'm done with the Survivor Contest!!!! I withdrew my name as of this morning due to personal reasons where I can not be confident I can upload in time. I've also decided that the competitive scrapbooking really brings out the mean and ugly in women and I just don't like it. So, with that said, you can now see all my work with no repercussions to me!!!
All items below were created in the MMFY Survivor contest:
Round 4's challenge - A LO any style using at least one picture of you with NO other living thing(s) in the picture. My LO is titled : To Thine Own Self Be True - and guess what, what better way to leave the contest than on a statement like that right???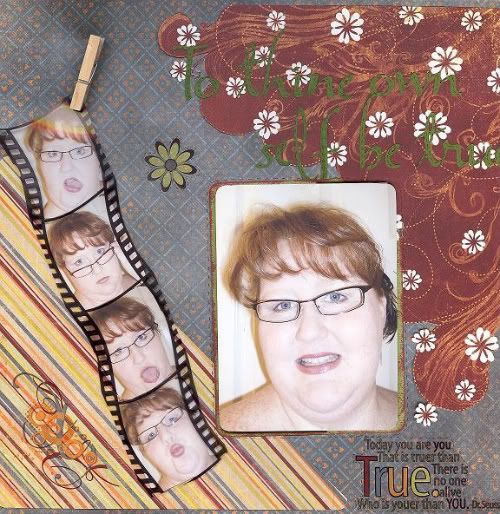 Round 3's challenge - An altered item using transparency that was clearly visible. We were requested to show the item before altering and after:
This is the before and after, I have to tell you I totally love the after. I loved it so much that I put it on my nightstand beside my new bed....LOL.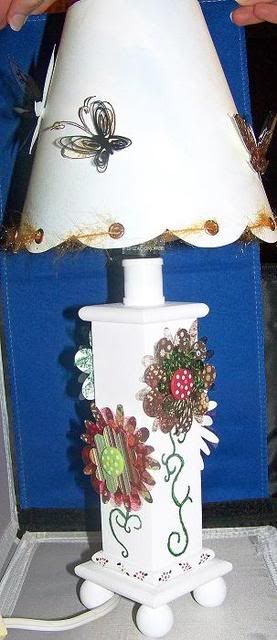 Round 2's challenge - A LO using NO pictures of any kind. Really came at a fitting time as our daughter's 16th birthday was the weekend before and I had these awesome papers sitting waiting for me to do something with. I love, love, love how this came out!!!
Here is a pic of inside the journaling folder. The journaling says:
2/9/08
Happy Sweet Sixteen my baby girl!!!
How time flies when you are having fun!!! It seems like only yesterday that you came into my life and really shook things up!!! I was so happy you were here, you were beautiful and just perfect but I was so scared to be a Mom – I just didn't think I was good enough!!!
I look back over the last 16 years to realize that I've not been the perfect Mom. Mistakes have been made. But the one thing that I never slacked on has been my undying love for you!!!
I am so proud of the young woman you have become. You are beautiful, intelligent, quirky, fun and most important of all.............YOU!!!
Please don't change a thing about yourself for anyone!!! Be who you are. Be confident and strong. You can do and be anything you want in life!!!
I love you. I am proud of you. I may not say it enough but don't ever forget it!!! You are my life, my pride and joy and nothing will ever change that!!!
Happy Sweet 16 Cait!!!
Love Mom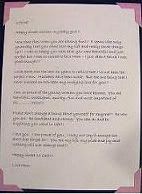 Round 1's challenge - 3 greeting cards using plastic that was not a flower and a flower that was not a plastic. In addition the greeting on each had to be different.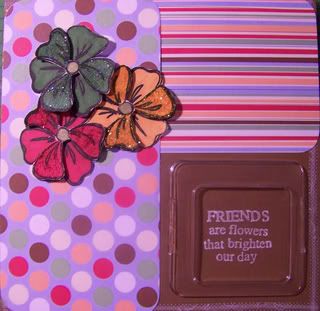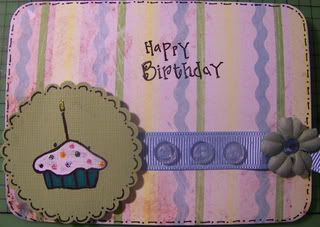 In other news the Baby books we've been making are starting to roll out - we've had 3 sell so far and a request for a special order one again as of yesterday!!! Love doing those books!!!
Well, Over and out for now.........I need to veg, maybe have a drink tonite, cry a little more, sleep a little and just hang out with my kids and no expectations from me other than being Mom and wife!!!