Well, I am in Dallas this weekend and stuck with dial up internet. Oh man I sure wish the area my folks live in would come to modern times!!! I managed to get a couple things done, which in itself is amazing because I'm not a good traveling scrapper!!! I packed up 4 bags and brought with me for the 5 days I was gonna be here because I knew internet time would be limited and I'd need something to do.
Here is a card I got done: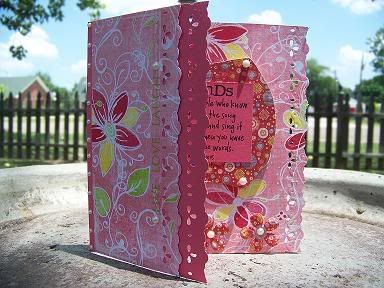 I also made two composition books - mini ones - but haven't gotten the pics uploaded, not sure I will even mess with it until I get back home. It took forever to upload those 3 pics and I reduced them in quality and size a bunch!!!
Anywho, thanks for looking and stopping by. Nothing exciting here except trying to sort out all this moving crap. I'll be back home this next week by Wednesday at the latest because I have class again so I'll upload pics of anything else I make while here then.
Happy Scrappin'
Over and out ya'll.....................