I'm back home - got here today!!!! Was happy to see my hubby and kiddos - and yes, my darling Daisy. I had to go potty when I got in and I didn't even have my pants down and she was trying to get in my lap while in the bathroom!!! I thinks she missed her Mommy!!!
So not everything went as planned this weekend on my trip. No internet other than dial up is available out where I have land. Not good. One of the requirements for me getting accepted back into college with one of the grants was that I would have high speed internet available to me throughout my classes. I know crap happens but with dial up there is no way I could interact with the real time classes I am taking. We explored satellite but you gotta hear this crap. Did you know that there is some Fair Trade Act or some crap like that which puts restrictions on the bandwidth you can use with the satellite service??? I honestly think it is some crap the satellite companies came up with and it is ridiculous so what do you do???
So now we have a new gameplan. Unless Rob gets an offer in another city for full time, year round work with the government we are just going to move back home to our house where it sits now. Sure the neighbors have broken out a window or two, stolen our couch and love seat from in there, broke open the back door where it is totally unusable and is now nailed shut but hey, it can't be all that bad right???? At least we'll be able to have internet, we can repair the house, put in a security system for darn sure and I'll be able to finish my college - only 18 mths to finish up my degree!!!
As for scrappy stuff - it is going to kill me but I have to pack up all my stuff for the move.....LOL. I have 2 1/2 weeks before the move so that means very little scrappy creating time for me which is going to kill me but with packing, purging and class two nights a week hopefully I will survive. Not to mention we will be going up for the next 2 weekends to clean out the house, bomb the house, repair windows/doors/flooring and such so that when we move in it is like a brand new house (well as close as it can be) and all I have to do is unpack. Me and the kids will be going up in 2 1/2 weeks and then Rob to follow in about 2 to 3 weeks after that when the property here in Austin is finalized. We promised the owner, who has offered us a little bonus, that we would stick it through to the closing so he didn't have to try to find someone to run the place.
I did get a couple other things done while at my Mom and Dad's this weekend. One is a LO for a challenge at Just Scrappin' and the other 2 things are mini composition books. I made one for my Mom to put her lists on and keep in her purse so when she gets to the store she doesn't forget what she needed - yeah, she is getting really forgetful right now and it worries me but that is another day's posting. The other mini comp book I made for my Dad's best friend Bill. He is 72 years old and still going strong. He has retired and taken up baking as a hobby. While I was up there he brought down two different batches of cookies for me - like I freaking need more sugar for my rear.....lol - anywho they were some of the best cookies I've had in a long time. So I made this comp book for him to list his supplies he needs when he goes to the grocery store - it is the perfect size for his pocket!!! I did tell him he was lucky that it didn't end up with flowers - seems I put flowers on every freaking thing anymore!!! LOL
Here is the LO: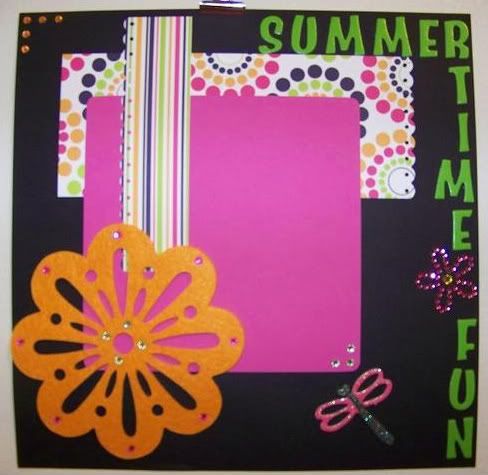 The picture is a little blurry it seems. My back was killing me tonite after helping Rob clean out some stuff from one of our storage sheds and I guess I was a little shaky.
Here are the comp books I made:
Mom's
Bill's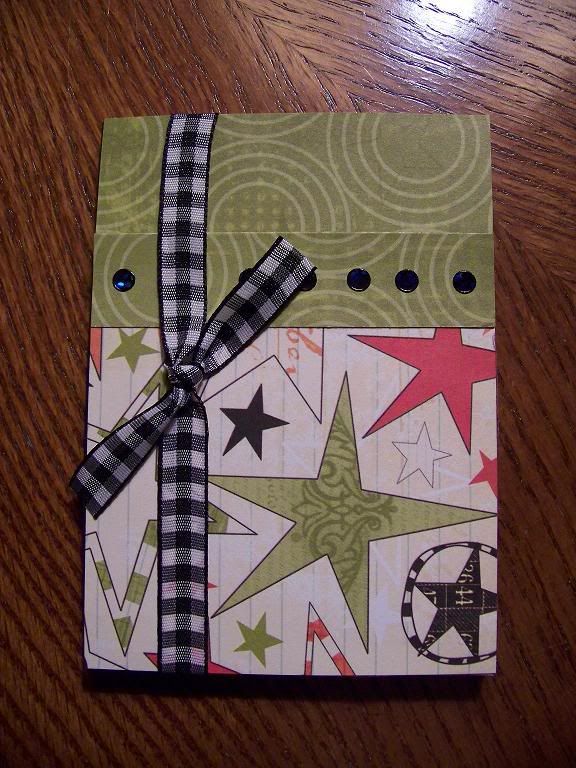 As always, thanks for stopping by. Make sure you leave me a comment and let me know you were here. I'd love to come check out your blogs as well - I love to be inspired by fellow crafters!!!
Happy Scrappin', over and out ya'll!!!!