Well, still at my parents. Ended up having to deal with some stuff today that wasn't expected so I will be going home on Tuesday morning.
Last night I joined my friend Julie to watch her daughter in the marching band at the Ferris High School football field. They had a midnight pep rally - now tell me, what on earth prompted them to do a midnight pep rally on a Sunday night??? If you figure it out let me know - it was the 2nd annual one to boot.
Before heading out last night I finished up another card. This one is for the
Pink Cat Studio
DT challenge by Dawn and for a chance at the guest designer spot for September which will feature the Melissa's new Christmas Kitty - which I am so hopped up for Christmas that I need these stamps.....LOL. Well, I don't really NEED them but I really WANT them...........LOL.
I used MM pp's, misc cardstock, tulle (for the fabric part of the challenge), PCS Kitty stamp, SU greeting stamp, MM flower/gem brad in the center of the greeting, ribbon from stash, gems from stash, copic markers to color in the image.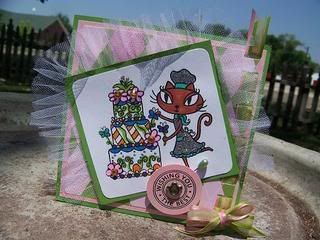 Sorry if the picture isn't the greatest. I'm still struggling getting things loaded via dial up!!!
Thanks for stopping by as always and happy scrappin'!!!!
Over and out ya'll...................................