This week we are throwing our challenge "to the birds" at
The Cuttlebug Spot
. My card was a quickie, last minute one with going back to school, working and family coming in to town so we could go out of town so it isn't my best work - unless you consider a 7 minute card that looks like this to be pretty good work..............LOL.
Enough chatter - today is my last day with my parents before they head back to Texas so I'm gonna spend it with them!!
My card:
and Copics used: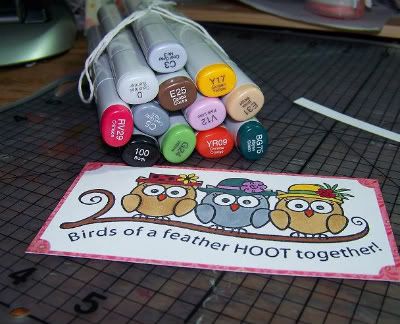 I used the sketch over at
Friday Sketcher's
for inspiration and was thrilled with the fact that I could keep it simple for such a rush job!
OK, I'm uploading pics now from our visit with my brother this weekend and will post some shortly. We are off to visit Olde Towne this morning then home to make home made bread and probably cook chicken fried steak for dinner!
Thanks for stoppin' by and happy scrappin'!
UPDATED:
While waiting for Caitlin to get ready I threw together the slide show, ENJOY!