It's that time again -
Cottage Cutz
Wednesday at
The Cuttlebug Spot
. This week I played with the
Cottage Cutz Bear
die. I've been wanting to do a layout using this picture of me and my cousin David (miss ya guy) for quite a while but it has been hard, after 10 years, to scrap him. My cousin passed away in April of 1999 at the age of 31 (would've been 32 in November) from cancer and as with many other family members I've lost, I've blocked the memories and pain so when I scrap these pics they come rushing back.
Anywho, on to a happier story! My parents and David's parents owned cabins on Lake Tawakoni in Texas and every Friday night we'd pack up with our grandparents and head to the lake for the weekend (we lived about an hour away). On the way to the lake on Hwy 34 there was a little po'dunk store that had a real live bear out back who loved loved LOVED "sody pop" as the owner called it. You could go inside and purchase a bottle of "sody pop" (I loved to give him Orange Crush) and go outside and stick it through the fence for the bear to reach out with his paws and take the bottle in both paws like they were hands and tilt his head back while sitting on his bottom and down the bottle of "sody pop." Stopping to buy "sody pop" was a tradition we shared for many years until the area where the cabins were was set up for renovation and all cabins had to be demolished - those were sad days but a whole different story. So, when I came across this pic a while back I knew I needed to scrap it but have put it off til I got the
Cottage Cutz Bear
die in the mail a couple weeks ago. So, onto my LO: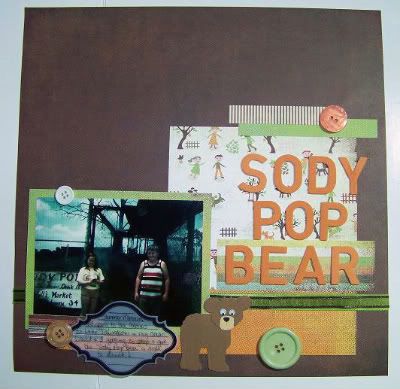 and a close up of the bear:
I added the mini googlie eyes for a fun effect but these dies are so easy to use you have plenty of time to customize them. The one die for the bear contained all the pieces needed including that tiny little nose and eyes (the tiny googlie eyes I got at Hobby Lobby if I remember right).
Don't forget to check out the other creations from my fellow
Cuttlebug Spot DT Members
and then check out all the dies (especially the new release coming up, OMG I am so anxious to get my hands on some of those! LOL) at
The Scrapping Cottage
.
As always, thanks for stoppin' by and happy scrappin'!!