That's right, this week at
Charisma Cardz
we are pulling out the flower power! I have had these papers sitting here since my scrappy trip to Tennessee in April because I didn't want to use them because then, well, I wouldn't have them! But, this flower power challenge and my Sarah Kay stamp spoke to me and told me that I needed to use the Little Yellow Bicycle Zinnia papers now!!! So, off I went!!!
I used the sketch at Sketch Saturday for inspiration and have to admit, for having little to no mojo this sketch made it super easy to get my card completed!
Enough yapping, here's my card: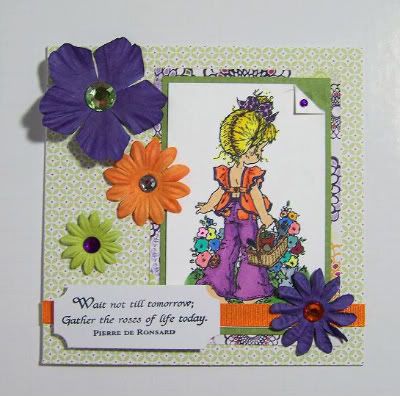 I failed to take a picture of my Copic's used this week - bad me! I can't even begin to tell you which ones I used (I have sort of an idea.......LOL) so, we'll chalk this week's lack of Copic's used to my mojo being on vacation!
So, I know a bunch of you who horde flowers like I do (I finally admit I have a flower addiction) so let's see what you can create using "flower power" as your inspiration!
Hope you like my card and as always, thanks for stoppin' by and happy scrappin'!!!