It is that time again! Reveal time at
Charisma Cardz!
This week we were challenged to use "swirls and curls" - I was running a bit behind on this card and just finished it up last night so it isn't my best work but I do like it! I'd love to see you come over to
Charisma Cardz!
and give our challenge this week a go! If you do, make sure you link to
Charisma Cardz!
AND link to my post and maybe, just maybe I'll have a little something to give away!!!
As I usually say, "In typical Karen fashion," I also used this card for the weekly sketch challenge at
Friday Sketchers
!!! I have to tell you, the sketch this week I think is one of my all time fav's! Make sure you stop by Friday Sketchers and give it a whirl!
My card:
and Copics used: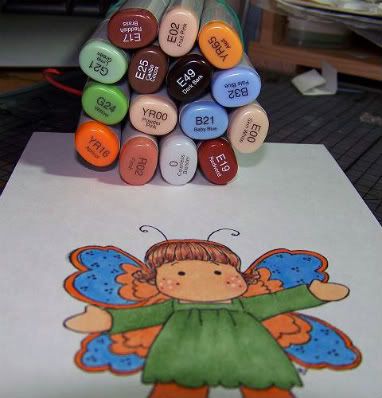 Now, take a look at her hair. Does this look red to you? We were chatting it up in the Magnolia Yahoo group I'm part of wondering what the best red color combos were. I've tried several but this was a new one for me and I think I like it best .............. so far...........LOL. For this I used YR00, E17 and E19 - I laid YR00 as the base, used E17 around the edges and up almost all the way into the hair and then E19 for just the edges and then a swipe here and there for a little added depth and texture. Tell me what you think! Do you have a favorite Copic combo for red hair to use?
As always, thanks for stoppin by! I will be a bit quiet the next 5 or 6 days as my folks get here tomorrow - I know, I know - I've said this how many times?? LOL I am just really excited to see them again and then see my brother on Saturday for the first time in quite a few years!
Happy scrappin' all!!!