Well, it is almost midnight and I'm exhausted!!! I've been having a blast over at JS scrappin' with the girls tonite!!! Cait and I had the music blaring, Coke Zero for the caffeine and forums up to keep chatting. Well, I decided to break out my dancing skills tonite for Cait.
I was practicing my belly dancin' skills to Shakira's "Hips Don't Lie" - who knew scrappin' and belly dancin' went together so well???
Here is one of Cait and I being silly in between challenges: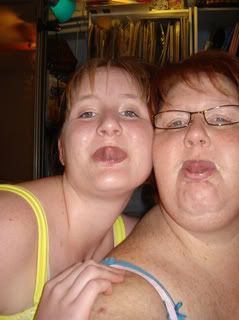 And this last one, well, Cait had the auto timer on her camera going and was trying to get a pic of her singing but she couldn't quit laughing long enough to get a pic of her singing!!! If you look close in the background you see me making faces.....LOL
Well, gotta finish this LO that I'm working on then heading to bed!!! I'll be finishing up my crop challenges tomorrow along with a couple other things that I need to have done by tomorrow night!!!
Happy scrappin' all!!!