Well, 3 posts in one day - I guess I go to one extreme or another with my posting huh?? I either don't post forever or I post it all in one day.
Well, I couldn't "NOT" post this one. I've teamed up with Aymee aka southernbellescrap at
Just Scrappin'
to host monthly card festivities!!!
Meet Aymee - isn't she just the cutest???
We are going to hold challenges and contests - yes, prizes are involved!!! So, what are you waiting for??? Get over there and scrap!!!
So anywho, Aymee took the first challenge and posted a card sketch by Becky Fleck over at
Pagemaps
and boy, did she rock this sketch!!!
Here is the sketch:
Here is Aymee's take on the sketch - don't you just love her dress form????
I really love what Aymee did with this sketch.
So, of course me being part of the dynamic card duo I had to get my card made as soon as she posted it. I tell you, this was the fastest I've ever made a card!!! I made the card, snapped a photo, resized it, uploaded it to photobucket and posted it on our forums in 19 minutes!!! Talk about excitement!!! I couldn't wait to tackle her first challenge!!!
So, without further adieu, here is my card: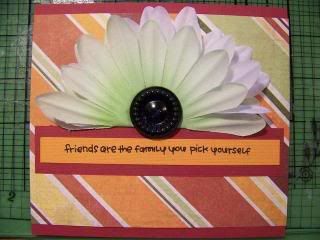 Stop by Just Scrappin' and get in on the fun - we are a small group right now but we are totally DRAMA FREE and having lots of fun!!! We've become a real family over here and love expanding our family!!!
Happy Scrappin'...........over and out ya'll!!!