Gate Fold Card How To
After several compliments on my gate fold cards and questions of how I made them, I decided to make a how to post. I was inspired to make these cards from a make and take on National Scrapbooking Day at Archiver's – here is the card I made there: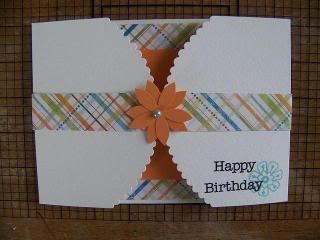 These cards are really very easy and fun to make. I don't have photos for the how to just yet but will try to get some taken and update this post with them very soon.
Let me start out by saying if you own a Scor-Pal you will use it on these cards and get your money worth!!!
1. Decide on the size of your card. I make mine 4" x 5" when completed. When cutting your cardstock you will double the length of the cardstock in order to create the gates. So, for a 4" x 5" card you could cut your cardstock 4" x 10".
2. Place your cardstock on your Scor-Pal and score at 2.5" and 7.5". If you do not have a Scor-Pal then measure and mark w/a pencil and score with a bone folder then fold.
3. Emboss the gates on your card by placing them into the embossing folder JUST up to the point of the fold. Run each gate through the embossing machine and embellish as you like – ink, chalk or lightly sand to give it a different finish. You could also use the color core cardstock and sand to give it the two tone effect.
4. Cut your inside pieces for your sentiment. I double layered mine so I cut a piece of patterned paper 3.75" x 4.75" and adhered it in the center of the card. For the second layer I cut a piece of solid color paper 3.25" x 4.25" and stamped the image using a watermark pad so the image does not overpower the sentiment and signature. Adhere this piece centered on the patterned paper.
5. Scallop the edges of the gates. A friend of mine, Cristal, showed me how to do this using a small corner rounder by EK Success that can be purchased at Target for under $5. After I scalloped my edges I used my Crop-A-Dile and punched holes in the scallops - you can place eyelets, ribbon, etc in the holes or you can leave the scallops intact and faux stitch them or whatever you like.
You can go to
Cristal's Blog
for a great how to with pictures on creating scalloped edges using this corner rounder.
6. I inked the edges of my cards – you can leave them plain or if you used color core cardstock they will already have an awesome two toned effect. You could also easily emboss the fronts used an embossing pen, highlighting the raised embossed design and putting embossing powder on the raised image and heating – I bet that would look awesome, will have to try that next time I do this….LOL. You can also chalk the edges.
7. For the belt you will need to cut one strip of patterned paper or colored cardstock 1" x 11" if you made 4" x 5" cards. For other sizes double the width of the card and add 1" for your strips – you may have to break it down into two strips if the card is wider than 5", if so for a 6" wide card you will cut two strips 7 inches to give enough room to attach the strips in the back and the front.
8. Once you've cut your belt center your card on the belt and wrap snugly around the card leaving a small amount of room in order to slip the belt on and off your card and secure using adhesive, eyelets, ribbon, hinges, etc. I usually use a repositionable adhesive at first to make sure my belt will slip on and off before permanently securing – I've wasted enough paper not doing this……….lol.
9. Embellish your belt however you like. I used EK Success paper punches in a flower shape and punched two flowers in coordinating cardstock to give it a layered look. Attach to your belt in the center on the front – I used a pop dot to give it a little bit of dimension. In the center of the flowers I put a gem but you could use stickles, leave it plain, however you want. If you don't want to use a flower you could always use any other punch or even a stamped image and cut the image out. The possibilities are endless on embellishing your belt.
10. Finish off your card by stamping, handwriting or placing a sticker sentiment on the inside. Fold the gates closed, slide the belt on and voila!!
Here are the cards I made: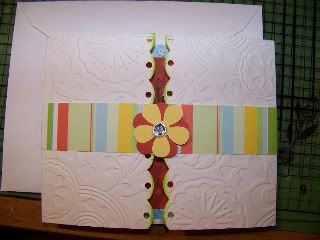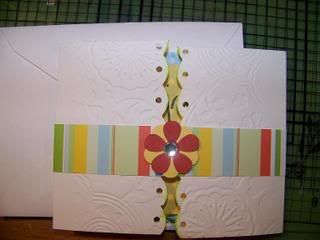 I hope you found this how to helpful. I will try to get pictures added real soon.
Happy scrappin'………over and out ya'll!!!!