Well, so much has gone on in the past few days that I haven't taken the time to sit down and chat!!!
I've been very busy working on some scrappy creations - some I hope to sell, others just for fun. I've also done a little more scrappy shopping to get stuff to work on and sell in my office - I have the perfect little nook to set up in and display my stuff and I'm sure some things will sell!!!
Here is something I threw together: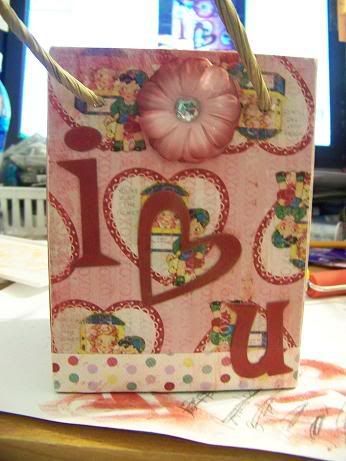 It is one of the paper mache' bags you get at Hobby Lobby - just slapped some Daisy D's patterned papers on it, modge podged and put on a flower!!! Voila!!!
The most exciting news though??? I finally did it - I finally sat down and built my website. After a couple people asked for a link to view my stuff because they were interested in having me do some scrappy work for them I decided I needed to just stop procrastinating and "Get 'Er Done" as Larry would say!!!
I am proud to show you my site...................
Memories Unleashed
- the site has been there for a while and I've played here and there changing things around but never really made it past the home page until recently!!! Please, check it out and tell me what you think - good, bad or ugly, tell me so I can improve it!!!
Other than that work as usual. Things have slow but it is that time of year. Give it another month and a half and then I won't know which way I'm going for about 4 months due to how busy that time of year is. I really love that time of year though - it is great for business but I also love to stay busy!!
Well, I'm off to do some work now. I'll be updating my website frequently until I get all the bugs worked out so check back often to see what I'm up to!!!
Have a great day!!!