It's hard to believe that Christmas really is just around the corner. I have a ton of cards to get made and with me working full time again wow, where is the time to get them all done? So, I have started now!!! I know it isn't real early but honestly, I usually make them all the weekend after Thanksgiving to be mailed out by the 5th of December - yeah I usually wait til the last minute for everything!!! But, the new
Kenny K
Christmas images have gotten my creativity jumpstarted!!!!
I've used this card for the following challenges:
Stamping Vacation
- NO NO NO, using an image that begins with an S is a NO NO NO!!
Kenny K's Krafty Girlz Challenges
- Make it Christmas
Creative Inspirations
- Sketch Challenge
Craftalicious Challenges
- Anything Goes
Ellephantastic Cards & Crafts Challenge Blog
- Anything Goes
A Spoonful of Sugar
- Winter Wonderland
Christmas Stampin' All Year Long
- Inspiration
Just Inspirational Challenges
- Anything Goes
Papercutz Challenges
- Anything Goes
My card: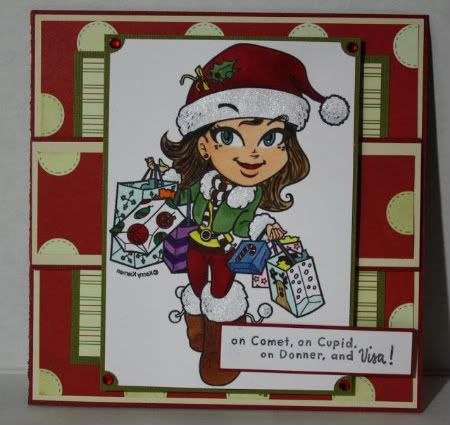 Wonder what the prezzies part is about??? Well, I won a prize from the
Stamping Vacation Blog Hop
a couple weeks ago and it came today!!! I am so stinkin' excited to play with the new
Sparkle and Sprinkle
stamps that I got!!
Meet
Christmas Diva Nikki
:
Here's a couple pics from Tuesday night, Dylan's 18th bday. We didn't do anything big for him that night because we are having him a big party on Saturday.
OK, that's it for tonite, off to get some sleep and work tomorrow. Thanks for stoppin' by and happy scrappin'!