Threw a card together tonite in some much needed paper therapy. I am not really thrilled with it but I decided to stop dwelling on it and move forward so since it was for 2 challenges I'm gonna post it but again, totally not thrilled with the outcome but hey, it is what it is.
So my challenges were from
Just Magnolia
,
Colour Create
and
Mojo Monday
.
Just Magnolia
challenged us to 2 x 2 this week, basically 2 of stuff so here are my following 2 x 2 qualifiers: 2 of my fav paper mfg's being K&Co. (PP) and Bazzill (CS), 2 stamped images (Tilda & Happy Holidays), 2 of my fav products to add a little shiny being Stickles and Copic AtYou Spica pens, 2 border punches (snowflake and bracket both on red PP), 2 punched items (scallop circles and spellbinders cut shapes that Tilda is sitting on), 2 pieces of ribbon (same ribbon one is looped the other piece is tied in a bow and glued on), and finally 2 of my fav colors :) pink and green!!!! So I think I covered the 2 x 2 challenge huh??
Mojo Monday
gave us a fab sketch to work with. I had so many ideas but for some reason my card just didn't come out as pictured in my head (more ways than one but I digress). Check out that fab sketch this week, I know the week is almost over but I plan on using this sketch in the near future for a couple things I have going in my little pea brain!!!
Here's my card: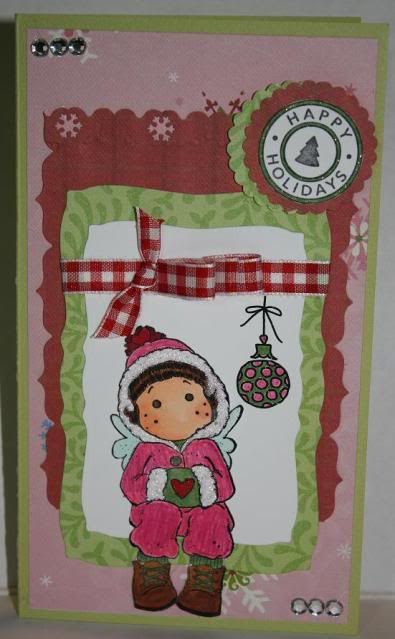 I know it isn't the most horrible card ever but I really have struggled this week with my creativity. I don't know if it is because I'm tired or still worrying about my Momma (she's better and may get to go home tomorrow if all works out well) or just stressed about stupid stuff that I can't seem to let go of.
I'll have some balloon fiesta pics to share later this weekend. Thanks for stoppin' by and happy scrappin'!