..............that as of tomorrow I will be the Mom of 2, yes TWO, 18 year olds!!! Dylan turns 18 tomorrow so I thought I'd use this awesome
Kenny K Digi Image - Rock Dude
to whip a card. Masculine cards are the hardest for me to make but this image sure made it a lot easier for me!!
I used this card for the following challenges:
Charisma Cardz
- Autumn Colors
Card Patterns
- Sketch
The Crafty Calendar Challenge
- Birthday
Creative Inspirations
- Birthday
Party Time Tuesdays
- Birthday
Crazy 4 Challenges
- Birthday
My card: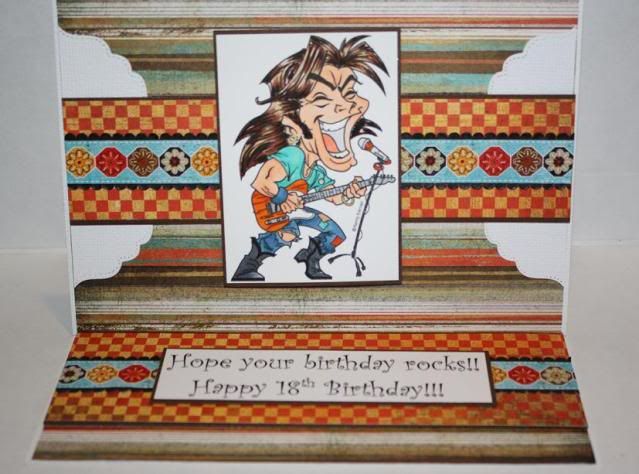 I have really become hooked on digi images, especially the
Kenny K
ones and am thrilled with their new Christmas release!!! You really need to check them out, I bought them last night about midnight and just finished printing them out to play with tonite!!! I did find a few other sites with some cute digis so if you know any others leave me a comment letting me know, I am always on the lookout for cute images and I love digi because they are extremely easy to work with and so versatile being able to resize and flip them!!
I am so thankful today was a holiday (for us government workers LOL) because I definitely needed the time off after working all weekend at Balloon Fiesta!! I had a great time and def enjoyed working it but it is tiring even though it isn't hard the hours are long!!! We started about 4 in the morn (well that's when we got out of bed) and typically didn't get back into bed until well after 11 at night!!! Here's a few pics for you to enjoy, I have tons more so if you wanna see them click on the right side of my page and go to my FaceBook page as I have more posted there!!!
Thanks for stoppin' by and happy scrappin'!!
2010 Albuquerque International Balloon Fiesta: