Oh my! I knew what day of the week it was yesterday (my day off) and I knew I needed to get my Thursday post scheduled but did I do it? Heck no!!!
So, it is Thursday and with every Thursday it is
Charisma Cardz
reveal day. This week Leanne was our hostess with the mostest and she provided us with the cah-yutest sketch evah to work with! I totally dug this sketch so much that I have it planned to use on a dozen or more cards for the holiday season!!!
Anywho, enough of my yapping here is my card and if you wanna see that yummy sketch hop on over to
Charisma
and play along with us!!!
My card: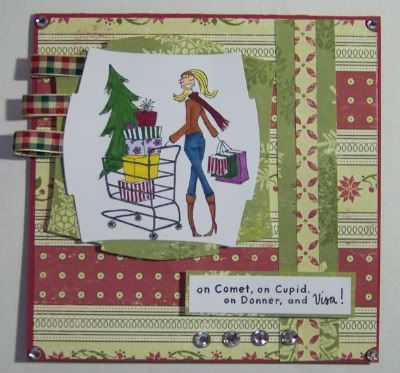 and Copics used:
The image stamp is of course a Bella girl but the sentiment came with a quote pack by Amuse that I bought in April or May right before we moved and the local stamp store in Fort Worth was closing - they are the same quotes that I used on Merry Chris-moose cards the other day!!!
Now for some more cards just for fun - this is another set of 5 I have completed for the show on the 14th - I'm getting the sets done a few at a time but def not as many as I wanted done by now............ugh, laziness!!! LOL Anywho, Cait and I have been using and showing a few cards lately using stamps by The Cats Pajamas and this set is another example - I have 5 sets of the TCP stamps and they are spread across my table getting well used for the holiday season as they are just so darn cute and easy to use!!!
Thanks for stoppin' by and happy scrappin'!!!