Hi all! It has been an extremely hectic and stressful week since my last post. I feel absolutely horrible that I missed my card for this week at The Cuttlebug Spot but there were a few pressing things that just made it necessary - I'll recap it at the end of my post as I want to get to my project for this week at Charisma!!!!
Vee has challenged us to "Merry & Bright" and we are generously being sponsored by
Your Next Stamp
. We got a few free digi images to play with this week from
Your Next Stamp
and they are just flippin' adorable! Both the snowman and the sentiment are from
Your Next Stamp
- how awesome huh? The only bummer is my printer went kaput a few weeks ago so I had to save them to a zip drive and hop over to Staples and have them printed. The cardstock was much thinner than I typically use so when I tried to color in a couple of the other images I ruined them and the poor little snowman was the only one to survive!
My project this week is not the typical card. I tried last year to make a purse planner/notepad but as I typically do, I made it more difficult than it should be and gave up. I was perusing over at
Suzanne Dean's blog
recently and she had just what I was wanting to make done!!! I was so tickled that I had to just make myself one and I thought the images from
Your Next Stamp
fit perfect for what I was looking for!!
Anywho, enough flapping my yap, here is my project for "Merry & Bright":
And the inside w/pocket: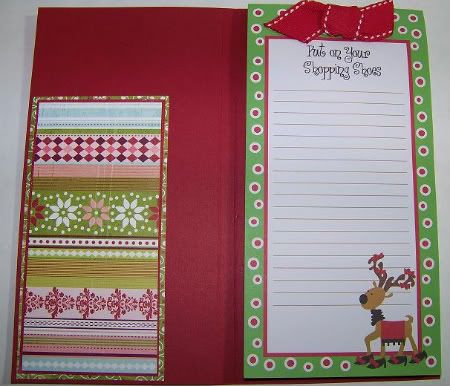 So, a recap:
Cait has been having serious headaches and dizzy spells for a while. We had hoped it was just anemia because she only eats a poptart for breakfast/lunch and then whatever I fix for dinner. I just figured she wasn't getting the right things to eat - you know how teenagers are right? Well, all the blood work came back showing that she is not anemic nor is she hypoglycemic which was our second guess. Basically the blood work shows everything is fine so our next step is an MRI of the brain to look for lesions - ugh, this has had me a tad upset and preoccupied.
Then, my Mom let me know that she has a kidney that has collapsed (but the other looks fine) and they found a spot on her bladder. They have decided not to put her through any surgeries quite yet. They are gonna monitor both the kidney and the spot on her bladder for a few months then decide what to do if the spot grows.
Me, I go to the doctor on Wednesday (writing this on Tuesday night...lol) to see if he is going to officially diagnose me with Fibromyalgia. My family doctor said he is pretty sure that is what is causing the additional pain for me on top of the degenerative disc disease.
Still no idea on what has been causing the chest pains with the hubby. The cardiologist is focusing on his cholesterol because all other tests come out just fine.
So, as you see I've been a little preoccupied.
As always, thanks for stopping by and happy scrappin'!