Yes, I did master the disappearing act for the last couple weeks! It is amazing how time flies! A lot has gone on including me working 2 jobs for a short period of time and now I am down to one job again for a short period of time but working double hours because of the holidays. I was supposed to start with a company this week but things got put on hold - it's government so contracts and stuff weren't in order to start us as planned.
I've missed a couple weeks of scrapping which hasn't made me happy but with the holidays, working and school I had to give somewhere and unfortunately my scrappy work was the only area I could afford to cut back on but...........I am hoping to be back full force now and I have some cute stuff planned for the next few weeks with the holidays in mind!!!
This week at
The Cuttlebug Spot
we are kicking off the holidays with the theme "Winter Wonderland." I couldn't resist my Pink Cat Studio stamp w/Lily and the Snowman - I've used this image over and over for holiday cards the last two years! I paired Lily with these adorable papers from My Mind's Eye and the sketch from
Friday Sketchers
.
So, here's my card: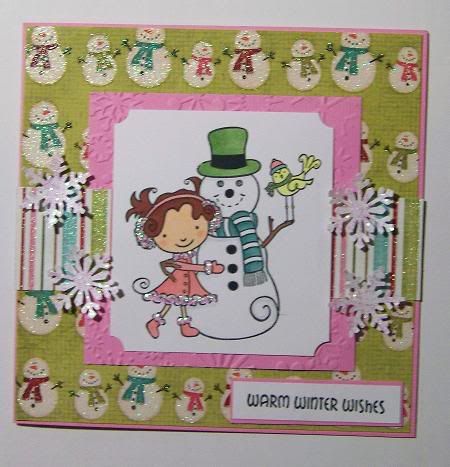 That is all I have today - I am heading to my recliner for some rest and relaxation and quality time tonite. I do work tomorrow but hope to have some free time tomorrow evening or Tuesday morning since I don't work til Tuesday afternoon!
As always, thanks for stoppin' by and happy scrappin'!!!!