The holidays are closing in really quick and I haven't even started thinking about what we'll do!!! Thanksgiving will be spent with some new friends here in Albuquerque as both Rob and my family will not be able to come out and we won't be able to go home. I am getting excited though!!
This week at
The Cuttlebug Spot
we are celebrating Thanksgiving by including those adorable little turkeys on our projects - plus we will be off next week for the holiday! This week I am happy to report my card was finished and ready to go in plenty of time - I'm still feeling horrible about missing out last week. My cute little turkey is boycotting Thanksgiving by wanting us to eat anything (preferably one of those cute little piggies by the looks of his sign) but him!!! I found this the perfect opportunity to use my googlie eyes again - we all know how much I adore putting googlie eyes on everything I can!!! I used the Diamond Plate (one of my favs I do believe) and Argyle plate to emboss the designer papers behind the little guy and my DP's are from the DCWV Indian Summer Fallstack that I got on clearance at Jo's for $3!!!! I love a great bargain! I also used the sketch over at
The Pixie Cottage
this week as inspiration and kept it really simple - you gotta check out the prize this week, so totally adorable!!! I hope you like my little guy as much as I do!
My card - front: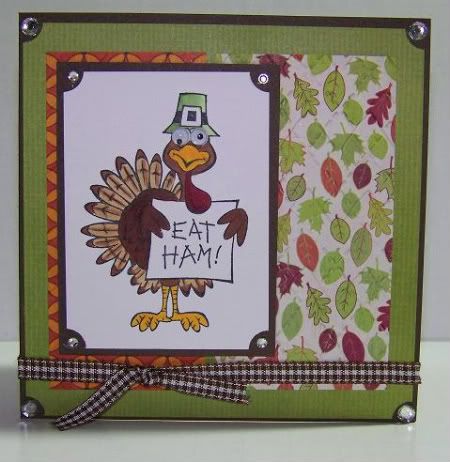 inside: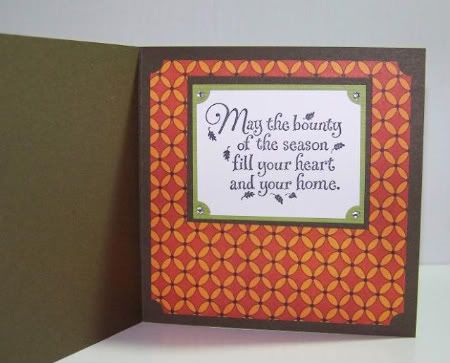 and Copics used:
That is all for today (actually Sunday when I'm scheduling this....LOL) as I have school work to get done and I must clean up my disaster area from the last couple weeks of non-stop holiday crafting!!
Thanks for stoppin' by and happy scrappin'!!!