I've been meaning to get around to this for over a week and I have simply failed until tonite. The challenge at
Caardvarks
is to create a card using a monogram. I have always loved the mini note cards I see people using to send quick notes to people and have wanted to make some but never sat down and took the time. So, tonite in between classes I did it!!! The picture isn't the best because it is late and dark outside and the only good lamp to use with the light box is in Cait's room and she is in bed so...........I did the best I could in order to get this uploaded in time for the midnight cutoff!!!
Here is my monogram card: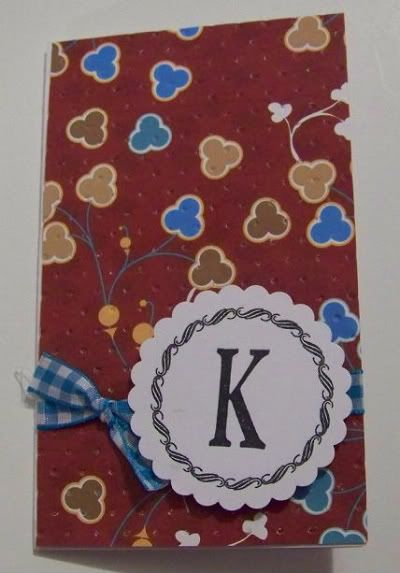 I used Cherry Arte paper, ribbon from my stash and my Just Rite monogram stamper - I've had it since BEFORE we moved from Austin (used my last coupon on it right before we moved while at Archivers) and just opened it tonite!!! I really love this little thing and have been browsing the site looking at the addons for it!!! So much fun and so easy to use!!! I can not wait to finish up the entire card set and the little box I have set aside to alter to hold them!!!
OK, off to work on stuff for the crop on Thursday and then to bed!!!
Happy Scrappin'!!!!