Here is the card I did for
Am I A Scrap Addict - Sketches
: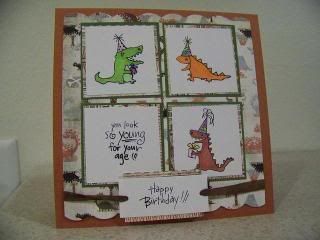 I was very excited to get the first card revealed as I was so worried that my interpretation of the sketch was just wacky!!! But, I see all the girls had their own visions with the sketch which made me feel at ease.
Materials Used:
Basic Grey Archaic Papers
Bazzill & Misc Cardstock
Stampendous Stamps
Misc Ribbon
Copic Markers
That's all for tonite. I just finished my test for Med Law & Ethics - made a 100, yay me - and I am now working on my scrappy nook. We have to wallpaper one wall and then get my desk moved in there. My darling hubby just finished putting together two shelves for me and tomorrow I will begin unpacking - I hope!!!
Happy Scrappin'!!!!