..........................whether you are having fun or not!!!
Let's see, where do I start. First off I apologize for not being so attentive lately. Some of my fellow bloggers, followers (how cool is it that I actually have people who LIKE to read my blog) and my scrappy sisters have been so patient with me and the move and I've really neglected visiting with them and showing some love. So, I plan to get working on that this weekend and hopefully I am able to visit each of you and say hello!!!
We are on the downhill slide of getting settled in. We still have a few boxes left to unpack and figure out where we are going to put the stuff inside, but it is coming along nicely.
The remodeling is pretty much done. We need to put up two pieces of sheetrock in the bathroom and either wallpaper them or paint them and we are done!!! Well, except for the putting stuff back in its place!!!! LOL
My scrappy area is cool. It is bigger than I had before overall in square footage but I don't have a clue how I fit all that crap in the other area because I am having issues getting everything put into a nice and functionable place now. I did switch out my storage system to some cute cubbies I got at Target and I was sure that would give me more storage space but for some reason it isn't. I have 4 or 5 more boxes of stuff and 1 tote to go through and get put in place - wish me luck because I have no clue WHERE I am going to get them put!!!! LOL As soon as I get it organized - well as organized as I can be - I will snap some photos and show you all my new little scrappy haven!!!
I have a 2 page layout to show. The color isn't so great because it has been raining her the last few days and nothing is dry enough for me to lay them down on to get good light. I took the pics in the bathroom on top of a box I was emptying so forgive me for the poor photo quality but you'll get the idea.
I am pretty happy with them but feel I could have done something more to them or maybe something different. Overall it is a nice 2 pager and I got pictures from last years pumpkin carving done!!!
I had some excitement in my scrappy nook a couple days ago!!! I was checking something on the computer taking a break from the unpacking and moving of boxes Rob and I had been doing and I saw something out the corner of my eye to the left of my desk on the floor. Holy crap it was a mouse!!! A HUGE MOUSE!!! OK, so not so huge but I am absolutely petrified of mice so any mouse no matter the size is ginormous to me!!! Needless to say I screamed and Rob came running - then laughing!!!! We decided to get kitties!!! It was a toss up of having a mouse (or mice) in the house or kitties and dealing with allergies. Yeah, I chose allergies hands down!!! So we went looking and finally found two darling little girls!!! We named them Snowball and Whisper. Snowball, well, she's white and the little girl of the family who we got them from called her that and when Dylan saw her he asked if we could call her Snowball so it stuck. Then we have Whisper. I'm being sarcastic on this ones name. She is by no means QUIET!!! She talks and talks and talks and lets you know if she isn't happy or hungry or sleepy or just needs to cuddle. She is more like a human baby than a kitty!!! Overall they are both fabulous babies and very playful and already spoiled rotten.
Meet Snowball and Whisper: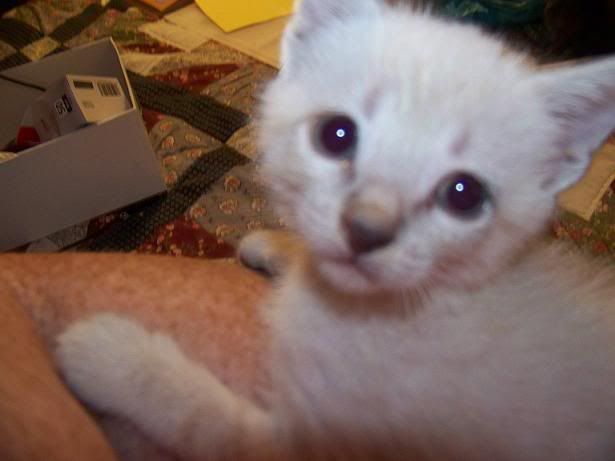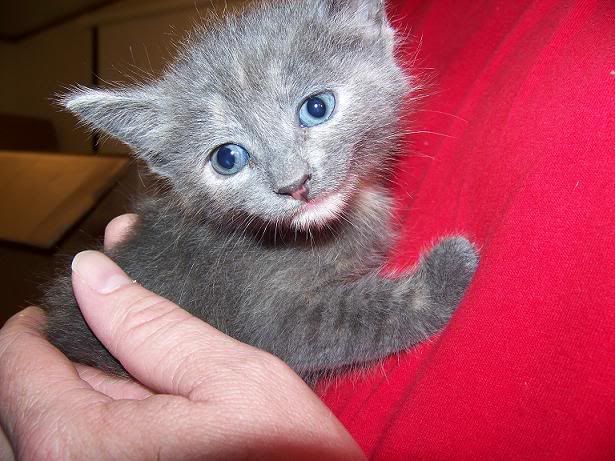 Whisper nuzzling with her daddy: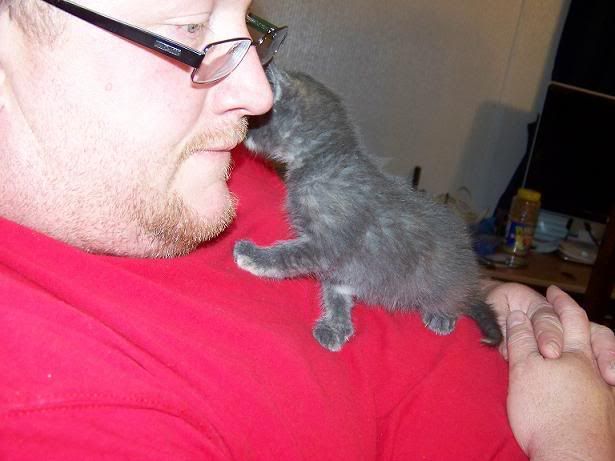 Snowball lounging on our bed:
Dylan and both of the girls hiding out in the bathroom on the first night home - they sure did figure out how to get out of doing some work.....LOL:
I think I should have edited that photo - you see how the boxes of my scrapbooking stuff was labeled........LOL. That one is mild. There is one that said "Blooming F'ng Crazy W/All These Flowers" and another that said "More F'ng Flowers"................LOL
Both of them helping me in my Med Law and Ethics class: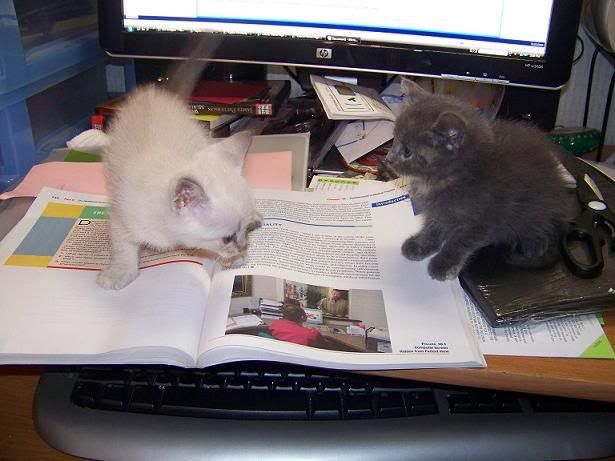 Snowball pointing out some important facts: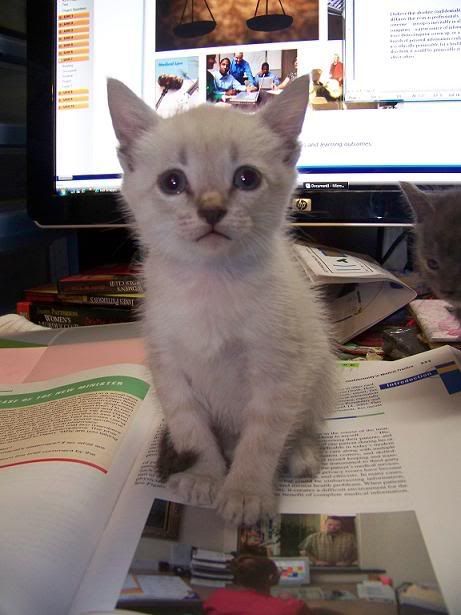 The two of them losing concentration on our studies and deciding to put some finishing touches on a frame I did a long time ago - I guess the flower wasn't to their liking so they reset it for me:
Two pooped out kitties after all that studying and crafting: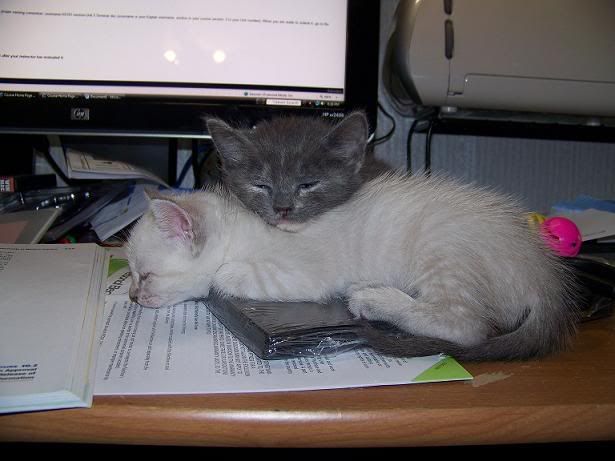 Have you all wondered what Daisy thinks of them yet???? Well, she is intrigued by them, she seems to like them for the most part but funniest of all she is scared to death of them when they come at her to play!!! If she wanted she could take two bites and there would be no more kitty but instead she runs away from them in circles!!!
Here is a pic of Snowball and Daisy getting to know each other: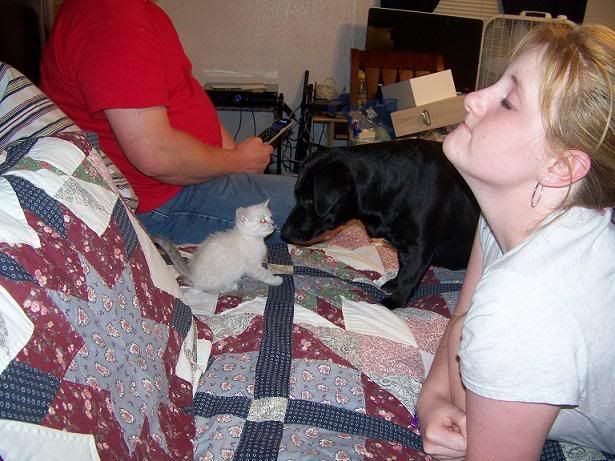 We haven't introduced them to Bob yet. I'm sure Bob would be friendly enough but them being so young and not having much restraint right now I don't think Bob the bird is quite safe yet!!!!
Tonite I am working on my DT assignment for Am I A Scrap Addict Sketches (see link on the side) that needs to be in like tomorrow - with the move I lost track of time but at least had it ready to go in my head for a couple weeks now!!!
By the way, Daisy is now the Mighty Mouse Hunter Doggie!!! This evening while the guys were out back shooting the pellet guns Cait came and told me that Daisy caught the mouse and it was lying in the middle of the floor by the door. I laughed but she was serious - yep, there layed the poor little DEAD mouse!!! Woohoo Daisy!!! We thought she caught sight or the scent of the little thing last night because she was going crazy scooting in and out of the boxes in the living room last night. Guess that little mouse got brave tonite - to bad for him but oh so good for me!!! I'm sure there are more and hopefully they will either be smart and move out on their own or Daisy will catch them - I sure don't want to wait for the kitties to get old enough to catch them................LOL.
Touching back on my studying today for school. All is well and I'm really enjoying my classes now that I got the hang of online schooling. I have a 97 and 96 for averages in my two classes. We are about 3 weeks out of finishing this term and I can not believe how fast it has flown by!!! Just think, if this term went this fast the rest of the schooling will probably go just as fast and I'll be graduated in no time!!!
Well, another long winded post from me but I think I have caught you all up to date with what is going on. Nothing too exciting just unpacking for the most part. I'm hoping to be back up and running by the weekend so I can catch up on some challenges I've missed out on lately and some chatting!!!!
Happy Scrappin' all!!!!