Another week has flown by and I haven't accomplished much of anything scrappy wise. I've started several projects to push them aside in order to study for my final in Med Law so now I have projects sitting around needing work on them and that really bugs me...........LOL.
I also started putting my DT card together last night. I've had it sketched out as usual for a while now but always end up waiting til the last minute to put it together because I know it won't take no time once I get going. I will be able to post it on the 2nd to share with you all!!!
Yesterday while baking I caught some darling pictures of Daisy and Snowball: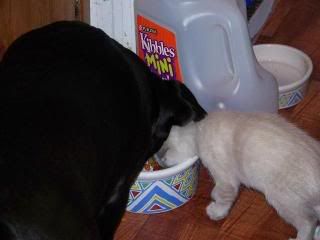 They get along so great!!!
I think I mentioned it on one of my scrappy boards but not here. I have the unfortunate news that Whisper is no longer with us. Nothing tragic she just didn't fit in here so she has moved on to a new home. I think she is not the kind of kitty who can deal with other pets and well, we have 3 others. She would not eat for us, would not use the litter box (pottying all over the house!!!), would not stop screaming and wouldn't sleep unless you were holding her and then as soon as she woke up she would start screaming again. She kept getting behind my computer and chewing on my wires as well as behind the component shelf in our room and chewing on those wires. Not only were we worried about her electrocuting herself, we can't afford to replace all of the electronic items that she was going to ruin by chewing through the cords.Snowball on the other hand is the perfect family kitty. Her and Daisy are best friends (as you can see in my pics) and pretty much inseperable!!! She hasn't tried to attack Bob just yet - she can't get to his cage is probably the only thing stopping her. She plays on her own, uses the litter box and will eat and drink on her own. She sleeps with whoever she ends up with when she tires out and then gets up and moves to the next person to play and go back to sleep. I am sad that Whisper kitty could not remain in our home but I can not have an animal that refuses to potty appropriately - I can deal with other things but the pottying issues are major for me.
Well, errands to run this morning so I must get moving!!! Happy day and happy scrappin' all!!!!