I'm gonna stray from my scrappy posts today and focus on something else for once. Friendship - what does it mean to you? To me it is the bond between people that does not break for little disagreements and even big fights. It is the little things you share with someone, the love you feel for them and forgiveness you have when things don't go right. I found a poem that is short, sweet and sums it all up for me for several of my friends:
Serenity
by Dena Martin
As I lookBeyond the ripples of my reflections
To examine my inner self;
The ripples begin to fade . . .
As the reflection lays beside me
Grasping my hand,
The inner warmth shields me
And the vision of my reflection appears
I see you. My Friend.
So, to all my friends out there whether you be real life friends, blogging friends, family friends or forum friends, I love you all and think you of today as I celebrate friendship!!!
Of course, this post leads me to another type of Friendship - Amish Friendship Bread..........mmmmmmmmm. Have you ever had this or made it yourself??? It is so easy to make and just delicious as long as you have the patience for the 10 day wait to make it!!! I will share my recipe that I have been using for years with you along with some pictures I took today while baking. I made 15 mini loaves - yep, 15!!! The kids barely got in the doors and Dylan's nose was working overtime figuring out what it was he was smelling - he zeroed in on the cookie guess but as soon as I said no he knew what it was!!!!
So, a history lesson first on the origination of Amish Friendship Bread:
The recipe isn't an original Amish recipe!! Huh??? What??? Oh come on, since when did the Amish have instant pudding and ziploc baggies???
According to research I've done to satisfy my inquisitive mind, the idea and name is borrowed from the Amish based on the sourdough breads they used to pass around. They would have a starter similar to the one in this recipe and when it was ready they would bake their sourdough breads, pancakes and muffins and share them.
Onto our recipe and pictures!!!
Firs thing you need is a starter. You can get this starter from someone who has baked a loaf and passed the starter along with the loaf or you can make it yourself. If you would like to make your starter yourself you will need a ziploc baggie, 1 cup of milk, 1 cup of sugar and 1 cup of flour. Pour all 3 ingredients into the ziploc baggie, squeeze out the air and zip shut. Now squish the baggie to mix the ingredients. If you have rec'd a starter or made your starter you will start with Day 1 once the starter is available to you:
Day 1 through 5 squish your baggie of mixture.
Day 6 add 1 cup milk, 1 cup sugar and 1 cup flour. Seal your bag, squeeze out the air and squish the baggie to mix up.
Day 7 to 9 squish your baggie of mixture.
Day 10 gather your supplies and move on to the recipe.
OK, first you need to gather your supplies, you should ONLY USE plastic or glass dishes and utensils when mixing and preparing your dough. You can bake it in metal pan tins but shouldn't have contact with the starter and any metal objects!!!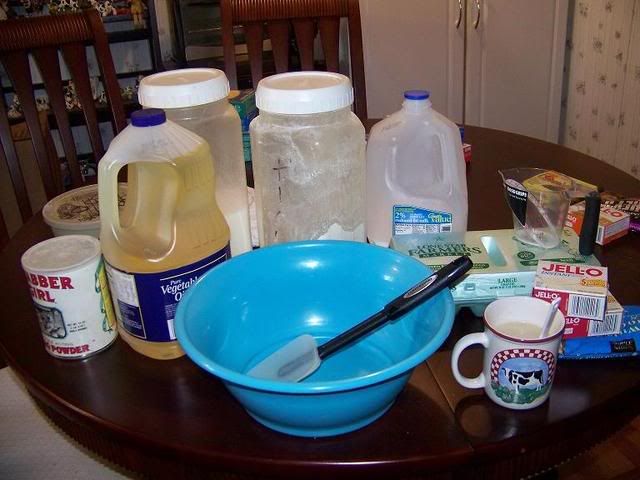 You will need: 1 large plastic or glass bowl, 1 plastic utensil to stir & mix with, your baggie of starter, oil, sugar, vanilla, eggs, baking powder, salt, flour, milk, baking soda, instant pudding mix in your choice of flavor and optional items of bakers chips, coconut, peanuts, walnuts, pecans, candies, etc. In addition you will need 5 mini baking tins or 2 large baking tins per batch of bread you make (per starter).
The first thing you will need to do is measure out 1 cup of starter from the baggie and place it into another baggie to carry over for your next round of breads or to pass onto a friend. If you just want to bake 4 batches then no need to move 1 to a baggie at this point. Measure out the rest of mixture into 1 cup batches and set aside.
Preheat your oven to 350 degrees.
Place 1 of your 1 cup starter mixtures into your plastic bowl along with 1 cup of oil and 1 cup of sugar. Your initial mixture should look like this: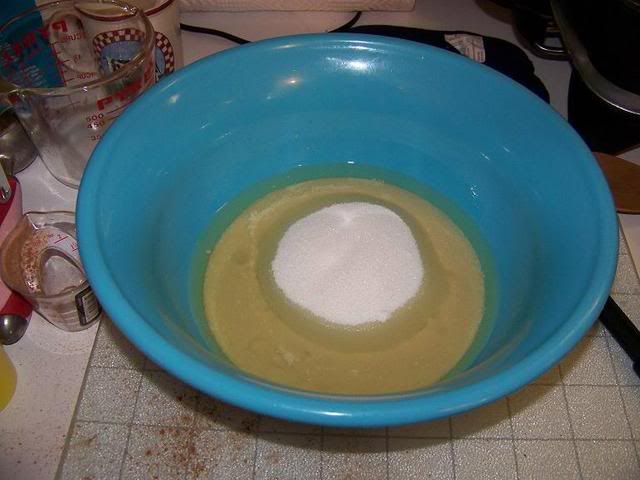 You don't have to start mixing things up yet, you can wait until you get all the ingredients into the bowl to mix if you like - that is what I do.
Next you will add 1 tsp vanilla, 3 large eggs, 1/2 tsp baking powder, 1/2 tsp salt, 2 cups of flour, 1/2 cup milk, 1/2 tsp baking soda and your box of instant pudding. Your bowl will now look like this:
Using the plastic utensil you will mix the ingredients in the bowl until they are a smooth mixture a little thicker than a cake mix. It should look like this: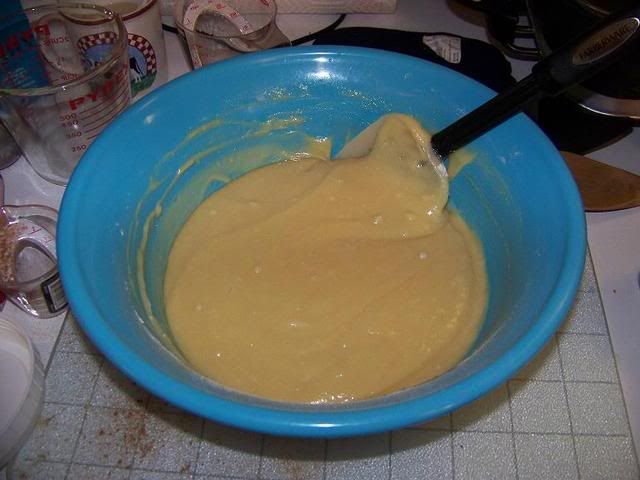 Now is the time you add baking chips, peanuts, etc. if you choose to use them: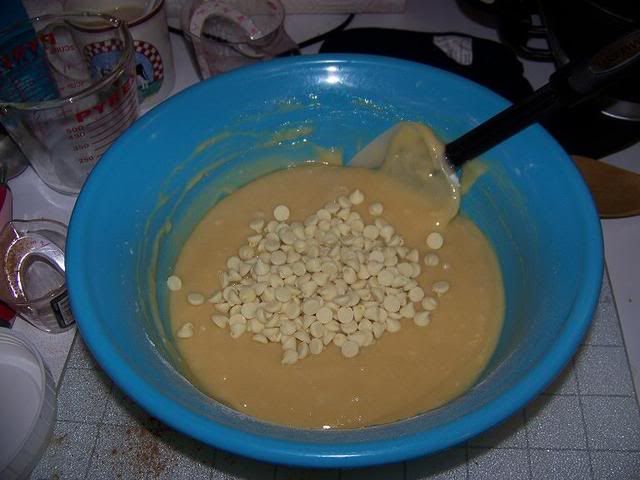 Mix the additional ingredients in thoroughly. Now you will fill your greased baking tins half full with your mixture. If you are using the mini baking tins you will get 5 mini loaves and if you use the full size you will get 2 loaves.
When I grease my tins I put cinnamon instead of flour and sometimes sugar depending on the loaves I am making: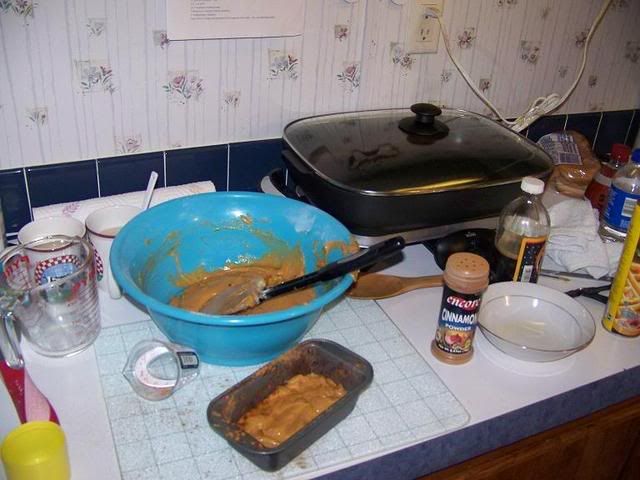 Put your loaves into the oven to bake. Now any baker knows each oven varies with its temperature so start checking your loaves at 30 minutes until you get to know your oven with this recipe. Here are mine about 20 minutes into a 40 minute batch since these are butterscotch: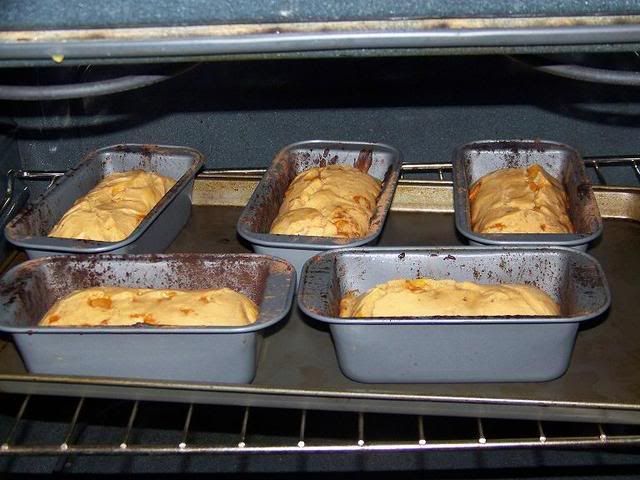 Don't worry, the dark stuff you see isn't burnt, it is just the cinnamon. Now the original recipe I was handed down stated an hour but my oven here takes about 35 minutes for the chocolate loaves and 40 to 45 for all others - never an hour.
After 40 minutes here are my butterscotch loaves fresh from the oven and still in their pan: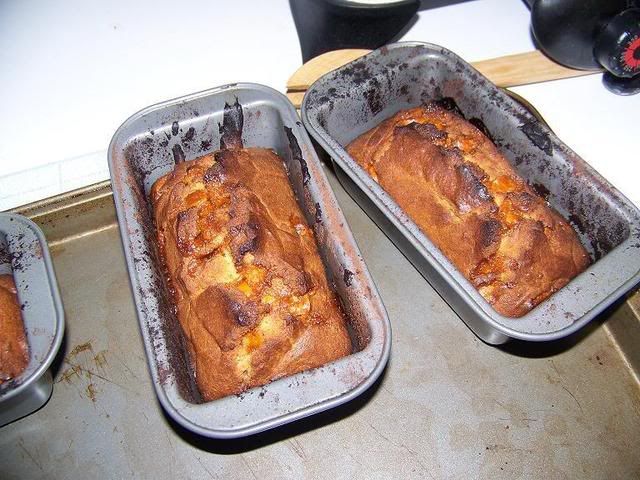 Now you can leave them in the pan if you choose but I always take mine out as soon as possible once I've pulled them from the oven. I have fewer problems with them sticking if I do this since I almost always put baking chips in them. Here they are cooling just minutes from the oven:
Well, I hope you enjoyed the poem, the recipe and watching me bake today. I love to cook but baking is my passion - I don't eat many sweets but I sure love to bake them!!! My family is enjoying the bread already and one loaf of chocolate chip is gone and half a loaf of butterscotch is gone. I had to put the rest of it in baggies for now so they have room for dinner!!! We are having bacon/mac & cheese w/a cracker topping, garlic cheese rolls, chicken stuff with mushrooms and swiss cheese for the guys and chicken stuffed with pepper jack and bacon for the girls and I'm not sure on a veggie yet but will figure it out as soon as the timer for the chicken goes off!!!
Have a good evening, happy scrappin' and bakin'!!! Thanks for stoppin' by!!!