Another gorgeous day here in Austin, TX!!!! I'm glad to be feeling a bit better - I've been really fighting a heck of a want to be cold and spent more time in bed sleeping than anything else. I still have an off and on cough and some silly intermittent congestion but nothing a squirt up the nose of Zicam doesn't help!!!
On another note, it's been a rough couple weeks emotion wise and I think I might actually be getting past all the turmoil in my life and finding my happy spot again!!! I scrapped today so that was a good start!!!
Woke up this morning and made a quick card to take over to Felicia's Scrapbooks for a Marvy Uchida punch contest she was having.
This is the card:
I also submitted a card I made in the MMFY Survivor contest that I just loved, this one: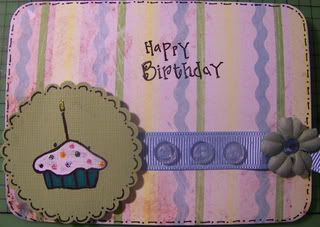 While at Felicia's she asked if I would be interested in teaching some classes - I thought that was pretty cool. I'm weighing my options with my schedule of work and the kids to see what I can do. I'd love to get out and teach a class a week and mingle with other scrappy ladies!!!
Cait and I stopped at Hobby Lobby to pick up a couple albums for books I have to custom make (they were 50% off through today) and then stopped at Archiver's - I swear that place is EVIL!!! We picked up some of the new Heidi Grace papers - OMG they are so yummy. Cait got some of the new K&Co. papers too - I started to get them but want to see what she does with them, they are just darling!!! I've bought so much girly themed stuff lately I'm trying to go with darker or more jewel toned colors in the stuff I buy for a little while.
I did get another Baby boardbook finished. This one is for a family member who had a baby on Christmas Day.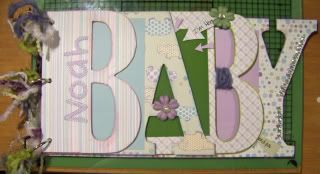 So, I got two scrappy things done today, some shopping that didn't need to be done and some quality time with Cait. She's growing so fast so I treasure every chance we get to go out and do girl things!!!
Over and out ya'll - I lose an hour of sleep tonite so I best catch up on it by going to bed early.........LOL..........nah, I'm just getting old and sleep comes earlier!!!! LOL
Happy Scrappin!!!