Well, I got scrappy last night while cleaning up my mess from making the wedding album. I had a bunch of scrap pieces of the Scarlet Letter paper as well as the solid color cardstock from cutting pages down to fit the album. They were too big to toss but not big enough to complete larger layouts so I decided to put them to use. I threw together 11 mini cards using just leftover cardstock, BG SL paper, HOTP flowers & brads , Making Memories rubons - all of the stuff used on these cards were leftovers from recent projects. The cards range in size from 2 1/2" x 3 3/4" to 4" x 4" - they are rather cute if I do say so myself!!!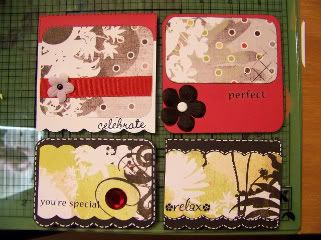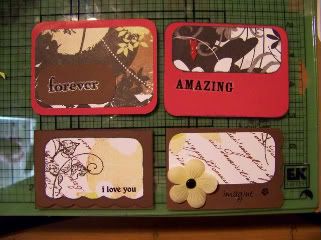 So this morning Rob took Cait for her permit. Good grief all the stuff you have to have and go through!!! We had all the papers the state requires for the permit and even had them notarized, her birth certificate and our marriage license showing he was her legal guardian and it still wasn't enough!!! I guess I failed to read the social security card was needed - or it wasn't on there, one or the other. Needless to say they had already stood in line at the driver license office and had to leave, drive to the only social security office in Austin which of course, was in North Austin and then go back to the driver license office in South Austin. I'm waiting now to hear if the driver license office will accept the printout from the social security office or if we will have to wait for the card to actually arrive - I'm such a bad Mom, I have no clue where her social security card is but hey, I do know the number that's a start........LOL. Then it will be a wait to see if she passes!!!
Today looks like it is going to be another gorgeous day in Austin. The sun is shining and we have a light breeze and it is just gorgeous out. I tell you I think I must have spring fever!!! I am so not focused on doing my work and just want to get out and play in the sunshine - even though I know I would get burned so bad I still want to get out and play!!!
While in the midst of typing this our contractor showed up regarding our retaining wall and he brought BABIES!!!! He brought his 3 year old and his 6 month old and oh boy did I get to play!!! I love kids and he has the most precious little girls!!! It was a breath of fresh air - I have baby fever too for those of you who don't know. I've had it for about 10 years..........LOL. Unfortunately the man upstairs didn't think I should have more than one child by birth and one by love but I am blessed with them!!!
So, off to try to focus and do some work today no matter how hard that is going to be!!!
Happy Scrappin'!!! Over and out!!!
K-