FINALLY FINALLY FINALLY!!!
OK, they have finally announced so I can spill the beans!!!
A friend of mine here in Austin told us about the Adornit Teen Chix talent search. So, Cait and I talked and a friend of ours sent down some Adornit product she had in her stash and Cait got to creating!!!
The deadline for the entry was 2/14 and Cait had her stuff in WELL before that - like a week or so after the contest was announced!!! LOL We've not been able to share any of her work until after the winners announced and we found out Monday and had to keep quiet until the podcast today.
So,
HERE
is the podcast. It is short and sweet and doesn't say last names but Caitlin is her!!!!
This
is the Adornit Chix website with the podcast posted on the site.
The email notification she got was this:
Date: Mon, 3 Mar 2008 19:53:46 -0800 (PST)
From: teen@adornit.com
Subject: You're a Winner!
To: "Caitlin Brooks"


Congratulations! You have are one of our TOP 5 winners for the Adornit Chix Contest. We're so happy for you and would like to do a spotlight on you. We will be doing a podcast on Wednesday to announce the winners - please keep this quiet until the podcast is posted. We will send more information after we receive your information below.

Please email us a photo of yourself and answer the questions below.
First Name
Nickname
Age
Eye Color
Hair Color
Your Weakness
Your Fears
Thoughts When First Waking Up
Favorite Candy
Do You Sing
What Do You Want To Be When You Grow Up
Diamonds Or Pearls
Favorite Movie
Favorite Actor
Favorite Band
Random Side Notes


And we waited.........and waited...........and waited........and refreshed all day long today until finally, 8:40 pm they posted the podcast!!!

And here is her work:




Harley Girl Daisy Supplies:
Cardstock by Bazzill
Patterned Paper – EK Success Harley Davidson Pink Vines
Ribbon by EK Success
Jewels from my Mom's Stash
Black Flower by Bazzill
Pink Flower by Heidi Swapp
Alphas are misc cardstock but with the Cricut Alphalicious cartridge




Happy Birthday Card Supplies:
Cardstock by Bazzill
Patterned Papers – Adornit – New Year's & Birthday Collections
Flowers by Prima
Jewels from my Mom's stash
Happy Birthday is misc cardstock cut with the Cricut Beyond Celebrations cartridge.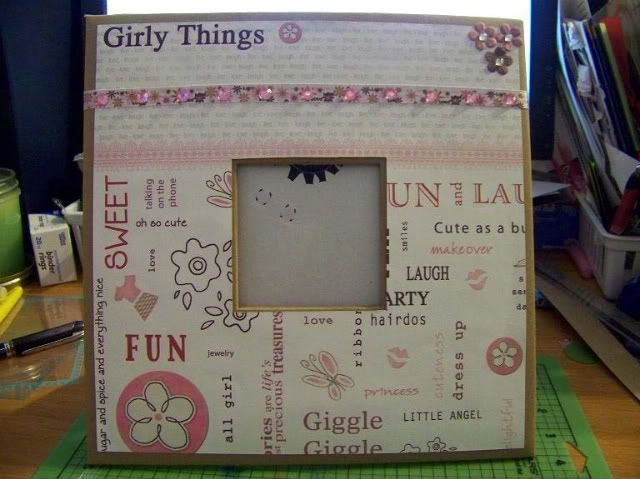 Altered Frame Supplies:
Misc Frame
Patterned Papers – Adornit – Girls Will be Girls Collection
Ribbon from Maya Road .
Flowers by Prima
Jewels from my Mom's stash




Altered Clipboard Supplies:
Clipboard from Wal-Mart
Patterned Papers – Adornit – Mother Collection
Flowers by Prima
Ribbons & Jewels from my Mom's stash


Congrats Cait - I am so so so so proud of you!!!

Over and out ya'll!!!