................well sorta!! I'm back in Albuquerque til Wednesday morn when we leave to come back to Texas. My daughter is graduating and wow, how time has flown!!!
Here's a pic of Cait when she was a little thing (all I could find was her glamour shot at age 4 - when I get home I'll have to update with a baby pic):
And here's one with her hubby taken the week before he was deployed back to Iraq:
It's great to be here though as some of our family is able to gather for this grand occasion! I'd like to thank my Dad (Joe), my MIL & FIL (Debbie and Chuck), my BIL (Cory) and my BFF from high school (Julie) for making the trip out here - I know it was a long drive and your tush's are probably wondering why the 10 1/2 hour torture but I definitely appreciate you being here with us for this!!!!
I have nothing crafty at all this week but I'm trying to NOT be a bad blogger and just post nothing................LOL................like that hasn't happened a lot lately with all that has been going on!!! Anywho, I thought I'd leave you with a few photo's I've taken lately in my amateur photographer career.............LOL.............I'd love to be able to charge and do this for a living but I know I still have a ways to go so I practice with friends and family and hopefully soon will feel comfortable enough to at least compensate for my time. Hope you enjoy these, they are of my BFF from high school's daughter, Shelby :)
(sssshhhh this is my fav one)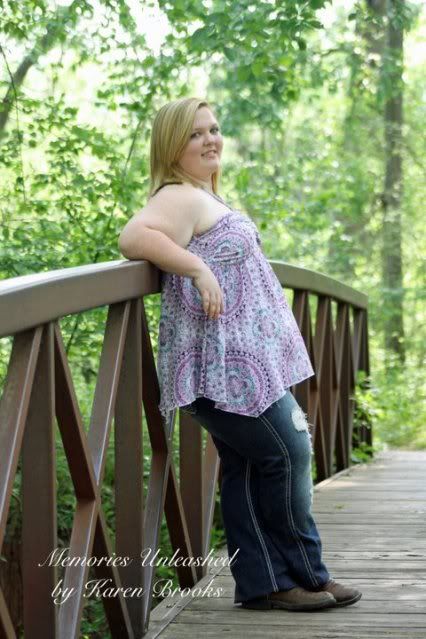 And then one of my darling neighbor girl (well she lives by my Dad and I've watched her grow up), Ms. Marissa!!!
As always, thanks for stoppin' by and I wish you happy everything today!!! Will be back later this week hopefully with some scrappy stuff - when we get back I have to get Cait a prom dress as she is going with her BFF from childhood, Shelby (which also happens to be my BFF's daughter) to her prom!!! So exciting (it's another photo op for me)!!!!
I'll probably be back later with news on my upcoming grandbaby - we are having a sonogram done today so cross your fingers that my grandbaby is cooperating and showing his/her stuff!!!