This card will be the first scrappy thing I've done since my Mom passed. The day she left us I felt all creativity go with her - I've sat down time and again and picked up my beloved Copics and tried to color only to put them away and throw away what I had started on. I felt like all my dreams died along side my Mom.....until today.
This week I've learned acceptance. I've learned to cry and let it out. I've learned its ok to be sad and not understand they why's as to what the big guy upstairs always does. As hard as it has been this week to let myself cry and feel, it has been uplifting as well. I've found myself driving down the road bawling like a baby talking to God and Mom. I was cleaning out the chest freezer in their utility room with my head down and tail in the air just crying and talking to her. All in all its the first time that I've let myself start to heal when experiencing a loss like this - to this day I can tell you I do not believe I've ever dealt with my grampa or gramma's deaths, maybe that will change now.
So enough with the downer post. This card is simple yet what I needed to get started again. When I first finished it I hated it. I thought things just didn't look right and work with each other. I fiddled with it a little and then thought about what I accomplished making this card and realized it is just perfect the way it is.
So, I used this card for a few challenges:
Just Magnolia
- Anything Goes
Mojo Monday
- Sketch
Creative Card Crew
- Flowers
Creative Inspirations
- Decorate the inside of your card.
Colour Create Challenge Blog
- Color challenge: aqua, green, purple, white and glitter optional
Here's my card - front and inside (I don't usually do insides but I like it):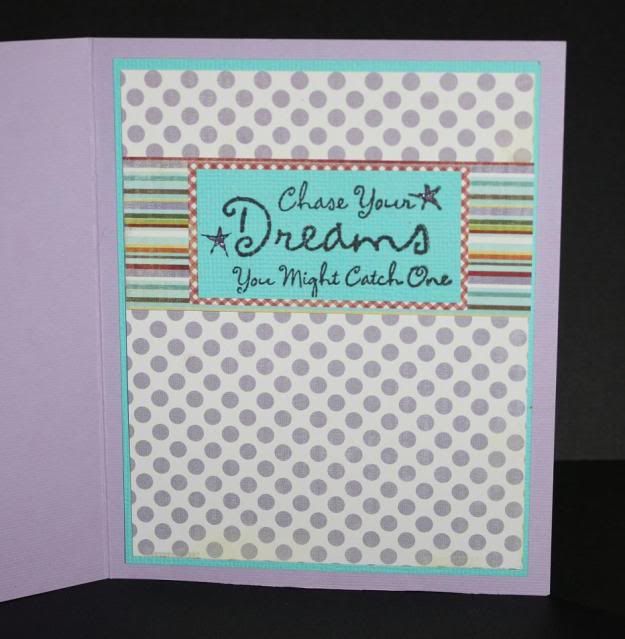 Card Recipe:
Neenah Solar White, Magnolia Image, LilyBee Design Picket Fence Papers, Ribbon and Rhinestones from stash, Mulberry Flowes from stash, Sentiment by TPC Studios and of course my beloved Copic Markers and AtYou Spica Pens!!!
Thanks for stopping by and happy scrappin'!!!!
PS I mentioned jewelry I had made - I'll try to get a few pics of that up soon!!!